5 April 2007 Edition
'Won't Pay' campaign gets its wrong again!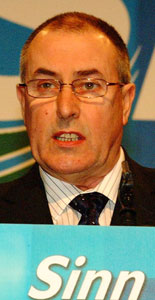 Dismissing claims by the Secretary of the Won't Pay Campaign in the Six Counties, Gary Mulcahy that Sinn Féin has announced the introduction of water charges through the Northern Assembly, Mitchel McLaughlin MLA has said:
"Firstly politicians have no control over how television producers edit pre-recorded interviews but I have to say that even in the interview referred to by Mr Mulcahy at no time did I say that the Assembly would introduce water charges.
"Sinn Féin's position is absolutely clear. We are opposed to people having to pay twice for any service. We have pointed out to the British government that we are already paying for water and sewage through the Regional rate. Sinn Féin will also lead the way in opposing any attempts to privatise our water service.
"Sinn Féin is adamant that the British government is responsible for the dire state of the water and sewage infrastructure because of their failure to invest money collected for this purpose through rates and they should provide the necessary finance to bring the system up to modern European standards."