5 April 2007 Edition
Dáil general election profile: Martin Kenny - Roscommon/South Leitrim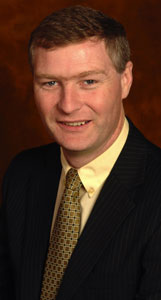 In the foot-steps of John Joe McGirl
COUNCILLOR MARTIN KENNY (37) is Sinn Féin's general election candidate for the constituency of Roscommon/South Leitrim. Raised just outside the town of Carrigallen, six miles from Ballinamore, Martin comes from a republican family and believes it's important to understand opposing political perspectives – "know your opponent" as he put it. He talks to ELLA O'DWYER about the very real possibility of his taking a Dáil seat in the general election.
John Joe McGirl was the major republican figure in Leitrim over many years. Yours is a republican family and your father was friendly with John Joe McGirl, wasn't he?
My father, Vincent, was a republican all his life and we grew up in a household of politically aware people. He campaigned for John Joe as far back as the 1957 general election and he was election agent for him on numerous occasions.
Of course, John Joe was elected as a Sinn Féin TD in 1957 along with Ruairí Ó Brádaigh, JJ Rice and  Éineachán Ó hAnnluain and he stood for general elections on  many occasions after that although he didn't win. But he did stand in every local election after '57 and only lost on one occasion.
About half-way through his last term as councillor, in 1988, John Joe contracted cancer and had to step down. His son, Liam, was co-opted in his place. Liam stood for two local elections after that and won the seat. Liam was a Sinn Féin County Councillor for 15 years until he stood down in October of 2003 and I was co-opted in his place. Then, in the local elections in 2004, I was elected and we topped the poll. I got the highest vote in County Leitrim in that election.

Was your family background the main reason for you getting involved in republicanism?
It wasn't just my family. There was a lot of republican activity around here in the 1970s and 1980s. We had a lot of raids and Garda harassment all around this part of the country. We lived about 12 miles from the border so I was conscious of the injustices meted out to nationalists in the Six Counties.
Then there was the Hunger Strike and the Sligo-Leitrim general election campaign around H-Block Hunger Striker Joe McDonnell. My family was very much involved in that campaign. I remember people like Bernadette McAliskey being in our house. There would have been meetings about the Hunger Strike and a general flurry of activity around that time. But I was always interested in world affairs and politics in general and I suppose I had that sense of justice and fair play that goes with political activism.
I joined the Cloone Sinn Féin Cumann in Aughavas about 15 years ago and I haven't looked back.

Tell me a little about yourself and growing up in Leitrim.
I live in Aughavas, seven miles from Ballinamore, with my wife Helen and four young children: Eoin (7), Eabha (6), Claire (4) and Pearse.
When I was growing up we weren't well off. We  were conscious of being poorer than other kids around. It had the effect of giving me a greater appreciation of the fact that not everyone is well off and it kind of grounds you.
I went to the local primary school in Carrigallen and then to the technical/vocational school in the town. After that I did an engineering course with FÁS in Sligo and later I went on to work  as co-ordinator for Lá Nua, a republican ex-prisoners' group based here in Leitrim. There was a big population of republican ex-prisoners in this region – over 80 people who had been in jail. We worked around training for ex-prisoners and we also offered advice in relation to rights and entitlements. It served as a drop-in centre, a contact point where people could help get their lives back together.
My work with Lá Nua has brought me into contact with the core republican family, people who really impressed me for their integrity, people who make themselves count in life with the passion of their beliefs and the energy to pursue issues.

What are the issues for Roscommon/South Leitrim?
A main concern is Roscommon County Hospital. While some investment has been put into the hospital in recent years, the Health Service Executive has decided to turn in-surgical services into what's called a day service, meaning that basically the hospital will service out-patient-type problems. Surgery requiring overnight stay will be deployed to Portiuncula Hospital in Galway, an hour-and-a-half away.
A new secondary school was promised for Elphin in North Roscommon but people are sceptical that it might never happen because there's been a lot of dragging of feet. The same is the case in Ballinamore where a secondary school has been promised for years. The Department of Education keeps saying they are waiting for funding for sites and in the meantime the three secondary schools in the town have agreed to amalgamate. This means that the students are having to go from one end of the town to another for various classes held in the individual schools.
A certain cynicism is developing and people are wondering if these schools will ever happen. The people are living on promises.
Then there's the issue of rural degeneration in terms of the closing down of rural post offices. All of these issues are about government's failure to provide services for people in rural areas. The FF/PD Government has reneged on its obligations and they're trying to turn the services people are entitled to into business opportunities for people in the business sector. It's the whole privatisation story.
Like other towns throughout Ireland there's a drugs problem which I'd rather see nipped in the bud and to that end we hold public meetings to discuss the issue and hear the parents' concerns. It's a community issue and while it's not an epidemic it could become one if it's not addressed in time.

Owen Carron, a very experienced person when it comes to election campaigns, is your director of elections. What does he think your chances are?
Owen is very positive about it. We feel it can be done. We're going to take a very, very good vote. One of the things running in our favour is the increasing number of young voters in this constituency, young people without traditional allegiances to the likes of Fianna Fáil or Fine Gael. These are people who will vote for good policies as opposed to voting for party politics.
Another thing in our favour is that Fine Gael selected candidates residing in Roscommon, not here in Leitrim. Fine Gael supporters in Leitrim feel let down by this and I think I'll be taking some Fine Gael votes here, even Number 1s and I will get transfers from them too. Not all Fine Gael voters here are anti-republican in the way that Enda Kenny is.

So what's your perception of Fine Gael and the traditional main parties here?
I think we need to get to know where these parties are coming from.
Fine Gael and Fianna Fáil are 26-County parties, not all-Ireland parties. We need to lead them to become 32-County parties. They see themselves as keepers of the 26-County state that they established in 1922. When we talk about Irish unity we threaten their status quo.
We need to crack that institutional approach and part of the process of making that breach will be through engagement – discussion, debate and leading them to see the bigger picture of a 32-County Ireland. We need to get to know our opponents. This will be another part of my work as a Sinn Féin TD in Leinster House.