5 April 2007 Edition
Sinn Féin and DUP tell Hain to quit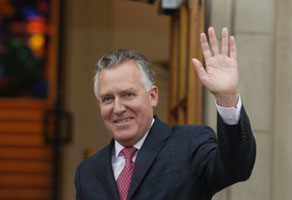 Just a week after the historic agreement between Sinn Féin and the DUP, the first joint initiative undertaken by the First and Deputy First Minister designate saw Ian Paisley and Martin McGuinness sign a joint letter telling British Secretary of State Peter Hain and his officials to move out of Stormont Castle. The two ministers intend to move their own staff into the building.
During the last executive, locally elected ministers and their staff were mostly based in offices at Parliament Buildings on the Stormont estate with only a small number of staff using the Castle.
Stormont Castle once served as the official residence of 'Prime Minister' within the Six County state and was the location of the cabinet room between 1921 to 1972. Since then the building has been occupied by the British Secretary of State and his NIO officials.
Six County direct ruler Peter Hain said he was pleased that he and his officials would be "more than happy to vacate Stormont Castle and relocate so that the First and Deputy First Ministers can be in position to take power".