5 April 2007 Edition
Dáil general election profile David Cullinane - Waterford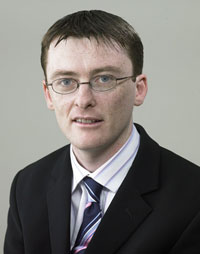 David Cullinane: 6/4 to take a seat
COUNCILLOR DAVID CULLINANE is part of a new wave of Sinn Féin candidates for the Dáil elections. With Dáil, European and local campaigns already under his belt, he has experience beyond his 32 years. Brimming with ideas and a determined sense of public duty, David lists among his ambitions a university in Waterford to serve the south-east, and to see a long agony come to an end by his native county, at long, long last, lifting the Liam McCarthy Cup. An Phoblacht's PHILIP CONNOLLY has placed his bet. 
Firstly, congrats are in order. You and your partner,  Kathleen Function, the Sinn Féin candidate for Carlow/Kilkenny, have just had a son, Emmet, last month and you're both candidates in the general election. With the baby and all, how do you both cope?
We're both very, very busy just now and obviously with the baby we lose a lot of sleep, but we share the three feeds at night and we're there for each other, we help each other. We try to make time in the middle of all the canvassing to spend time together as a family.

And of course you've first-hand knowledge of the obstacles facing young people starting out in life?
For sure.  We've a greater understanding now of the issues affecting young families  like ourselves – the first-time buyers and the like. There's been a property boom in Ireland but it has only benefited a small handful of landowners, developers and builders. The so-called property boom is now having a disastrous effect on ordinary people who are now paying a quarter of a million euros for an ordinary house! A quarter of a million!!!
Kathleen and I pay a mortgage of €1,100 a month so it's not very easy overall. We shouldn't have to mortgage the rest of our lives to the developers to have a home of our own for our family.

How did you become involved in Sinn Féin in the first place?
I think what appealed to me about Sinn Féin is the same thing that is attracting younger people to the party across Ireland – an innate sense of  social justice along with good, visionary politics.

What are the issues that concern people in Waterford?
A big issue right now is why did this government abandon the people of the South-East when it came to cancer treatment and leave it to private business to provide for a treatment centre.
The two-tier health service is a constant, recurring theme on the doorsteps. There is a growing sense of disgust at the way the health service has been run down.
One of the founders of the MRSA and Families Network, Dr Teresa Graham, lives in my constituency and I met her last year to find out what the story on MRSA is. She is a brave woman who watched her husband die unnecessarily through MRSA and meeting her brought the issue home to me.  I've also met people who've actually contracted MRSA. Their families are justifiably disgusted at the other parties' lack of genuine engagement on the issue and they have commended Sinn Féin and myself locally on our persistent involvement in this issue.
People are being discharged from hospital with MRSA and they are not even being informed that they have it.
I want to lift the lid on MRSA and expose the government parties for their criminal neglect.

Mental health is another concern of yours.
The stigma is lifting a little but I feel that the issue of mental health is still terribly neglected in Ireland, especially for young people. The human stories of people who feel abandoned by the system are ones I hear every day. And there are many, more out there that none of us hear about – but they are still real stories about real people with real problems and who need real help.

You were elected to Waterford City Council in 2004 and now you and Kathleen are general election candidates. So when you and she jointly get elected for Kilkenny and Waterford you might be able to do something about the contentions around the boundaries between Kilkenny and Waterford.
The local issue of the city boundary encroaching into County Kilkenny has become a point of much intrigue of late and there's no doubt that there are huge reservations if not downright hostility to the plan to expand the city boundary. I understand that and I respect it.
I have always believed that there should be empowered regional authority that will ensure we have regional development. Wexford are also looking to take in parts of Kilkenny.
I don't believe that boundary extensions themselves are the answer but you have to say that Kilkenny County Council have failed the people of that area and left it under-developed.
There is an argument to be made that if Waterford City Council had authority to invest in that area – in housing and recreation facilities and shopping facilities – it would be a natural expansion of Waterford City and not an imposed expansion. But at the end of the day, it's not about boundaries but about what's best for the people in the area.

So as a Waterford man, from an Irish port town, what really floats your boat in terms of local politics?
I tend to think nationally and work locally, so it doesn't really matter what part of Ireland I come from.
But since you ask, one thing I'm really passionate about is establishing a university for the South-East. It's so important for young people to have access to education and we have a large population of young people here.
We also have one of the highest unemployment rates in the country. The South-East is hugely dependent on manufacturing industry and we've seen big job losses in Waterford over the last ten years. For example, the Waterford Glass factory in Dungarvan closed down two years ago. It was a complete closure with a loss of about 300 jobs. That was tough on Waterford.

What about rural development?
We don't have access to proper rural transport. There's no public transport. I had someone recently in my office from a place called Bonmahon, a small village. He's an elderly gentleman who has lived there all his life. He made the point that there isn't anything there anymore. The post office is closed, there's no bus service, and it's hard to collect the pension or even get the shopping done. That's all central to what we in Sinn Féin here have been agitating on – the sense of isolation. It's real. It's not just a euphemism. And that's just one small village.

What's the chances on the McCarthy Cup for Waterford or the Dáil seat  for Sinn Féin – or even both?
The response at the door has been fantastic. You could get carried away with the positive reaction we have had from people. The bookies have Waterford down as 6/1 one in this year's hurling final and I'm 6/4 to take a seat for Sinn Féin. What more can I say? Let's take some money off the bookies for a change.

An Phoblacht Magazine
AN PHOBLACHT MAGAZINE:
Don't miss your chance to get the second edition of the 2019 magazine, published to coincide with Easter Week
This special edition which focuses on Irish Unity, features articles by Pearse Doherty, Dr Thomas Paul and Martina Anderson.
Pearse sets out the argument for an United Ireland Economy whilst Pat Sheehan makes the case for a universally free all-island health service.
Other articles include, 'Ceist teanga in Éirinn Aontaithe', 'Getting to a new Ireland' and 'Ireland 1918-22: The people's revolution'.