29 March 2007 Edition
Anger at state funding for UDA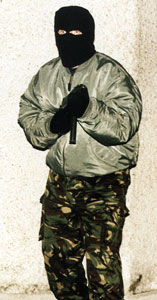 South Belfast Sinn Féin Assembly member Alex Maskey has said that nationalists are deeply disturbed at a British government proposal to fund the UDA to the tune of £1 million.
"Sinn Féin is fully supportive of efforts being made by loyalists to carve out a future role within the political process. However we share the deep unease felt by many nationalists, particularly victims, at the British Government proposal to hand over £1m of taxpayers' money over to the UDA", he said.
"It must be remembered that this organisation has always enjoyed a close relationship with the British state throughout its existence. British agents have since the start controlled and directed UDA activities and the British Government didn't even ban the UDA until 1992, despite that fact that it had been involved in the murders of hundreds of nationalists.
"It is also worth noting that 13 years on from its cessation the UDA has yet to engage with the IICD and deal with the issue of arms. It continues to be involved in drug dealing, extortion and intimidation. It continues to be involved in racist and sectarian attacks. The UDA does not need a handout from the taxpayer to end these activities and demonstrate that it is committed to the political process. These are the first steps the UDA need to take before looking for further assistance from the British Government", Maskey said.
Ógra Shinn Féin also slammed the decision with Uladh organiser Johnny McGibbon saying that it gave the message to the UDA "that sectarian violence and extortion pays".
"It is complete madness although not surprising that the British government are funding loyalist paramilitaries to carry on their dirty work, however this time it is the public domain instead of taking money from the special branch, the UDA will now be collecting their money from the British cabinet. I'ts good to know were the taxes go", McGibbon said.