29 March 2007 Edition
Ó Snodaigh campaign launched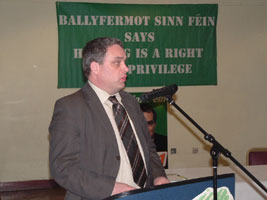 Speaking at the launch of the re-election campaign for Aengus Ó Snodaigh TD, Alex Maskey MLA praised local Sinn Féin members and supporters who recently helped in his own re-election campaign.
Maskey said the policy of twinning areas North and South had worked very successfully and would continue during the forthcoming election.
Aengus Ó Snodaigh reminded those present of "the scale of the achievement since being elected, from no TD, no councillors in the constituency in 1999 to the position today of one TD and three councillors.
"We have much to do yet and it is our intention to re-elect a Sinn Féin TD and lay the basis for more councillors being elected in the future."