29 March 2007 Edition
Least well off will pay the price for cuts in PRSI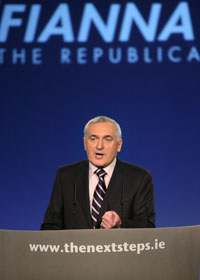 What You're Not Being Told
BY CAOILFHIONN Ní DHONNABHÁIN

Bertie Ahern has promised, if returned to government, to cut employee PRSI from 4% to 2% and to cut PRSI for the self-employed from 3% to 2%.  While tax cuts and cuts in PRSI contributions are always popular, the problem with these proposals is that ultimately it will be the least well off who will pay the price.
These proposals are being made without any consideration given to whether the social insurance fund (into which PRSI contributions are paid) is sufficient to meet current and future demands.  This is grossly irresponsible.  The fact that the media has failed to question these proposals is astonishing.
The adequacy of the Social Insurance Fund should be one of the most important considerations for any government.  That it could be sacrificed for electoral gain is despicable.  Because we genuinely want to implement necessary improvements in social protections, ensuring that adequate revenue is available to the social insurance fund is a priority for Sinn Féin.  
Sinn Féin has committed to improving social protections, raising social welfare rates, improving maternity benefit (including length of leave), introducing payment in respect of parental leave, increasing redundancy entitlements and introducing a reformed state pension. This cannot be done if the Social Insurance Fund does not have sufficient resources to achieve these objectives.
There are already serious concerns about the adequacy of the Social Insurance Fund. The Social Welfare Act 1998 provided that an actuarial review into the condition of the Fund be undertaken and published by the end of 2002 and repeated every five years thereafter. The first review covered a period of 56 years from 2001 to 2056.  It involved projections being made, based on a set of assumptions, of the Fund's income and expenditure in each of these years. The scenario's examined in that review demonstrated a high likelihood that the current contribution rates will need to increase significantly if they are to be sufficient to provide present levels of benefits. Yet the Taoiseach is now proposing to significantly cut social insurance contributions with no consideration as to the adequacy of the fund.
While Sinn Féin welcomes the promise by Ahern to abolish the regressive employee PRSI ceiling – we were the most vociferous in demanding its removal – the money raised by this change will not compensate for the reduction in PRSI rates.
The PRSI ceiling is regressive because those over the ceiling (€49,000) pay a smaller proportion of gross income in PRSI than those earning under the ceiling.  Only last October the Minister for Social and Family Affairs responded to a demand from Caoimhghín Ó Caoláin TD  for its abolition saying "I am satisfied that the policy of having an annual employee ceiling is appropriate."   Bertie Ahern has now promised that this ceiling will be removed.  Sinn Féin, the only people who have consistently fought for its removal, should take some credit for this. 
A comprehensive system of social protections, underpinned by the principal of social solidarity, is of huge benefit to us all – to workers, to those not in the workforce and to those working in the home.  It ensures that we are protected in times of unemployment, injury or disablement.  It enables us to take time off in the form of paid maternity leave when children are born.  If the social insurance fund is not adequate to meet these demands, we will all eventually be forced to make provision for ourselves. In the same way as the poor state of the public health system has forced ordinary workers to take out private health insurance, inadequate social protections – which would result from an inadequate social insurance fund – will force ordinary workers to take out private insurance such as income protection policies.  
If the PRSI cuts go ahead, be assured cuts in social protections will follow. But don't expect Fianna Fáil to tell us about that until after the election!