22 March 2007 Edition
Volunteer Tom Smith remembered in Dublin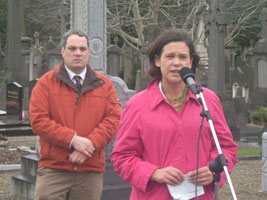 Over 100 republicans attended the annual commemoration last Saturday, 17 March for Dublin IRA Volunteer Tom Smith who was killed during an escape attempt at Portlaoise Prison on St Patrick's day 1975.
The Commemoration was chaired by Dublin South Central TD Aengus Ó Snodaigh and the main speaker was Dublin MEP Mary Lou McDonald.
McDonald told those in attendance that Volunteers such as Tom Smith had played a key role in bringing the republican struggle to where it is today.
"Sinn Féin progress in elections such as in the Assembly Elections in the North last week are due not just to the work of the current generation of republicans but also the generations that have gone before".
McDonald stressed that Volunteers such as Tom Smith had given everything for the republican struggle and said the debt owed to their sacrifice is to ensure that the objectives they died for are achieved.