22 March 2007 Edition
The Matt Teacy Column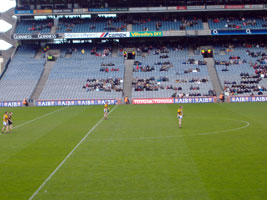 'Huzzah for the chaps with sticks'
When Tommy Moore ran onto the pitch to replace John McCaffrey with ten minutes remaining in last Sunday's game between Dublin and Galway there was a roar of "Come on the Isles". What was significant was that the roarer was wearing a Vincent's hat! There truly is a new spirit abroad in Dublin hurling.
That spirit has ensured that at the very least Dublin will avoid the automatic relegation spot. Two more points should leave them safe as well from having to play off for the other demotion place while another brace would almost guarantee them a place in the league semi finals.
But if there is one thing that Dublin hurling people have learned to do over the years it is not to enumerate unhatched poultry. Thanks to a rather foolish agreement not to replay the postponed Antrim match two weeks ago, Dublin now face three tough away games in the space of eight days to Limerick, Antrim and Tipperary. One win is vital, two would be a huge bonus.
It is hard to believe that little under two years ago, the Dublin team was coming to the end of an unprecedented run of 14 straight defeats. Tommy Naughton and his selectors stepped into the breach and a comprehensive win over Laois preserved senior status for 2006. Since then Dublin have won nine, drawn one and lost four league and championship matches. They are currently the only unbeaten team in Division One.
Apparently Ger Loughnane, whose lack of fondness for losing is legendary, kept the Galway team in their dressing room for an hour after the end of the match. It is unlikely that they were playing backgammon and reading the funny papers. His description of the result as a "massacre" is perhaps a bit overstated but it will have come as a blow to a squad that has serious ambitions of winning the All Ireland.
Those ambitions will have been dampened but only slightly. There were occasional signs that Galway possess considerable potential lethal power in their forwards and they could argue that the elements, not to mention the elemental Gary Maguire of Ballyboden, denied them a lot of scores.
However, Loughane wants a prolonged league campaign as a means of playing more competitive games before the Summer and the loss of points to Dublin before they have yet to play Kilkenny and Tipp places that in jeopardy. Indeed they might yet have to play off to stay up. No team is safe and only Antrim seem destined for the drop. Next week will tell the tale.
The tale of the All Ireland club football final was to a large extent the tale of two of the best corner forwards of modern times. In the black and amber corner, there was Oisín. And in the other black and amber corner there was the Gooch. Oisín – always sounds to me like Cross people call him Aisling, which I imagine would be a risky venture – was more significant in terms of scores, contributing 1-2 but the Gooch was just as important as a play maker and supplied the vital pass for Shane Doolan's goal.
That goal seemed to have built the platform that would elevate Crokes to victory but Oisin, who had earlier scored a goal, kicked the equalising point as the final seconds passed. It was an exciting match and the replay is in Portlaoise.
The hurling final between Ballyhale and Loughrea was anything but exciting but there was much for non Galway aficionados to admire in the manner in which the Kilkenny team systematically set about demolishing their opponents. Henry Shefflin played a similar role to that of the Gooch in that he stayed deep and was content to set up scores for the other forwards.
Foremost of them was TJ Reid who scored two goals and two points while his brothers added another 1 - 5. T.J., who thrives off the impeccable supply from Henry, has surely earned himself at least a trial run as a starting half forward for the Cats especially given some concerns in that quarter that they are too reliant on the Ballyhale master.
If Paudie O'Shea thought he had to deal with the "roughest f***in animals" in Kerry supporters (and who would gainsay him?) he may thank his lights that he never had anything to do with the Pakistani cricket team. Now there's boys that take their sport seriously.
Defeat to Ireland in the World Cup was greeted with a most uncricket like absence of sang froid. Effigies of the team were burned and it all threatened to kick off into a not unusual cricket related riot. That may sound bizarre to most of us but cricket is huge over there and being beaten by Ireland is the equivalent of Kilkenny being beaten by Longford in hurling.
Also contrary to many misconceptions, cricket in Ireland is largely devoid of the sort of small minded snobbishness that is associated with a certain other sport which is in the news a lot these days. Indeed cricket in England has much the same sort of status and social mix as your average rural hurling team.
One of the places it continues to thrive is in north county Dublin where there is an interesting cross fertilisation between the Man O'War gaelic football club and North County cricket club which came about as a result of a merger between the Man O'War and Balrothery cricket clubs. The clubs still share facilities for training and several players still play both as far as I know.
Now anyone who has ever witnessed north county Dublin football may be amazed at the notion that the "gentlemen" who tog out for the Junior Bs also wield the willow. Frankly it's all a bit disturbing really. Mind you it takes a brave person to stand in the way of a cricket ball bowled at high speed. So, huzzah for the cricket chaps. Huzzah.