22 March 2007 Edition
Dáil General Election Profile : Séamus 'Séamie' Morris - Tipperary North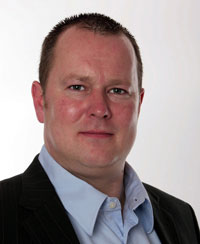 Delivering for North Tipperary
COUNCILLOR SEAMUS 'SÉAMIE' MORRIS is the Sinn Féin general election candidate for Tipperary North.
Séamie first stood as an election candidate in the 2004 local elections when he topped the poll in Nenagh town in North Tipp and became mayor for the first year. He was, as he put it himself, thrown in at the deep end but he has thrived on the experience and thoroughly enjoys his council work. A postal worker, Séamie Morris in conversation with ELLA O'DWYER, says he now he wants to deliver in the Dáil for the people of North Tipperary.
You grew up in a republican household, didn't you?
I come from a very strong republican family. I grew up at a time when being what was called a republican sympathiser meant being at the receiving end of constant harassment.
My father was interned in the late 1970s and spent about six weeks in Portlaoise Prison. While that might not be a long stretch, the fact that he was the father of ten young children was traumatic for us all. He was the only bread-winner in a large family.
The 1970s was a time when the house was constantly raided by the authorities here, and it wasn't only our family. There was a concerted effort to smash republicanism in North Tipperary. But republicanism in North Tipperary survived, it grew stronger and it continues to grow.

Who was the person who most influenced you as a republican?
I have to say that my father, Jimmy, was the major influence on me. He was an incredible political orator. I remember him canvassing against Ireland joining the EU in the early 1970s. His speeches would make the hair stand at the back of your neck. Even when people didn't agree with him, they were impressed with his public speaking.
Obviously, because of what was going on, the family were always politically aware. In fact, my brother, Martin, ran for the council elections in the 1980s. It was at a time when you were almost being spat at for being a republican. He didn't get a great vote – it was a tough time for republicans to put their head above the parapet. We were hounded and harassed so it was a very brave thing for Martin to do.

You topped the poll in the 2004 local elections and you were Mayor of Nenagh for the first year after your election. Were you surprised at that victory?
We had a lot of work done before the election and we did a very good canvass. Many people were predicting that we'd scrape in for the last seat but we topped the poll on the first count!
Knowing how popular Sinn Féin was becoming and that Tipp is fundamentally a republican county, it didn't surprise me that we got elected, though it did surprise me that we topped the poll.
Then to end up as mayor in your first year in politics was a bit like being thrown in at the deep end. It frightened the life out of me when it happened but I have to say that I was helped a lot by political people in Nenagh of all persuasions and nobody tried to take advantage of the fact that it was my first time in politics.
It is tough enough being mayor but I really enjoyed it. The mayor is the go-between, the team captain of the councillors and the council itself. There's a lot of behind-the-scenes work involved because when you see potential conflict in the council coming down the line you have to try to head it off and avoid disasters. I'm a good negotiator.

How successful has your work as a Sinn Féin elected rep been?
A major issue for us has been planning regulations.  There was a very soft attitude to developers in Nenagh on the part of the town council.  For instance, a beautiful park was promised to the people of Nenagh but a developer tried to have extra houses squeezed onto this park. Sinn Féin here took them on single-handedly.
What we do is we help the people to help themselves and we went and got people in the area to object. The developer threatened to sue us but we won and the people are going to get their park. So we managed to put that one to bed. That's the sort of direct action that gets results and makes politics worth it.

And the ongoing issues for North Tipp?
There's a haemorrhaging of jobs in towns like Thurles, Nenagh and Roscrea. Factories are closing down with no replacement strategy. Proctor and Gamble, which announced a fortnight ago that its cutting staff at its Nenagh branch, with a probable loss of 300 jobs, is the last bastion of industrial employment in North Tipperary. No new major industries have been brought here in 21 years because of the government's failure to promote IDA investment in the region.
In the last local elections Fianna Fáil TD Máire Hoctor promised that if elected she would ensure a replacement for the Aventis Pharma – a factory in Nenagh which was closed in 2002. Five years down the road and we're getting the same promises from the government. But its just that – empty promises.
People are having to drive awful distances for work. In fact, Nenagh is becoming a hub of Limerick. And then the transport system is abysmal.
Rural Ireland is being downgraded. Our government is devoid of any idea as to where we're going in terms of rural development. In one breath, Bertie Ahern talks about building communities but in fact his officials are destroying communities, particularly in rural areas.
Then there's the closure of Garda stations. Roscrea doesn't have a 24-hour Garda station and the post office there is being downgraded.
The hospital in Nenagh is another issue. The government wants to go ahead with the Hanley Report, which would mean that Nenagh and Ennis hospitals will no longer be 24-hour hospitals, making the entire populations of North Tipperary and Clare dependent on the Regional Hospital in Limerick. The Nenagh Hospital Action Group (of which I'm a member) has compiled its own report, Small hospitals: Big Service, which proves that Nenagh Hospital and hospitals like it are giving better value for money than the regional hospitals in this country.

So what are Sinn Féin's chances in North Tipp?
There's a mood for political change here and I think Fianna Fáil will lose a seat. That seat is up for grabs and we have a chance of taking it if we can get enough first-preference votes.
Sinn Féin is growing in leaps and bounds in North Tipp. I topped the poll in 2004 and David Doran took the town council seat in Thurles. We're thriving here and it's largely thanks to the likes of Patrick Hackett and Jimmy Nolan who carried the party here through tough times.

You work full-time as a postman and you have a young family. You have your hands full haven't you?
There's not enough hours in the day but that's the same for many families trying to pay their bills, working to get the best for their children and having some sort of family life.
I'm very busy but I enjoy my life. I follow the Munster rugby team and I love to watch my children – Pearce, Alanna, Jake and Ciara – play sport. But if it wasn't for the support from my family, especially my wife Denise, I wouldn't be able to spend two minutes in politics. I couldn't do it but for the back-up I have here at home.