22 March 2007 Edition
Transport : Banners unveiled in key locations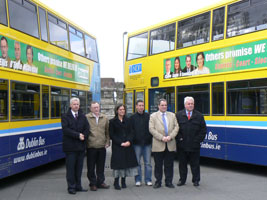 Citywide actions highlight transport chaos
Sinn Féin activists in Dublin dropped banners and handed out thousands of leaflets to people in Fairview, the Red Cow Junction, Blanchard-stown and at the Ha'penny  Bridge on Wednesday as part of a citywide Transport Week of Action.
The banners, unveiled in key locations around the city and M50 motorway demanded 500 additional publicly funded new buses for Dublin Bus and the immediate lifting of the M50 toll barriers.
Sinn Féin Transport spokesperson Seán Crowe TD said the party was highlighting the capital's traffic chaos and telling commuters that it  "does  not  have  to  be this way" if Sinn Féin proposals are implemented.
Sinn Féin's Week of Action on Transport was launched on Tuesday when Seán Crowe, Aengus Ó Snodaigh TD, Mary Lou McDonald MEP, City Councillors Dessie Ellis and Larry O'Toole and Dublin South candidate Shaun Tracey presented the party's bus side election posters at the Dublin Bus Phibsboro Garage.
Seán Crowe told the media in attendance at the launch that "Sinn Féin advocates appropriate state investment in public services and rejects the failed privatisation policy of the PDs. The public transport privatisation experience in Britain shows us that bus and rail prices for consumers rose, workers' salaries were reduced and most worryingly safety standards fell substantially. Dublin deserves better and Sinn Féin is the party to deliver."


Grinding to a halt
The Dublin South-West  TD,  speaking on Wednesday at the notoriously  busy  Red  Cow  junction  said that decades of public transport underfunding by successive governments had ensured that Dublin grinds to a halt with traffic chaos on a daily basis. "This does not have to be the case.  With proper  public transport investment the people of this city could have what they deserve, that is efficient, cheap, clean, safe, and faster  and  more  frequent  transport.  The  amount  of private cars is unsustainable  regarding traffic chaos and pollution. We need more buses as  viable  alternatives to private cars, and we need those public buses now", Crowe said.
"Though the  government claim that the amount of private cars is due to affluence  and  a  successful  economy,  their  conclusion  is flawed. A significant  number  of  people use private cars, not because they are a luxury  but  because  they  have fast become a necessity in Dublin. Some people simply have no choice due to inadequate government funding of Bus Átha Cliath.
"People  are  spending  less  time  with  their  loved  ones  because of increasingly  long  and  frustrating  commutes,  having  a significantly detrimental  impact  on  their quality of life. Sinn Féin is calling for 500  more public buses to service the capital. We also want to see major improvements in  bus stops  and  shelters,  for  instance  electronic information  time  informing  commuters of exactly how long they have to  wait", he said.


Privatisation failure
"We  wish  to see a situation where all public transport is accessible to those  with  disabilities  as  a  matter of urgency. We need integration between  all  modes  of transport so that a single pass could be used on all   forms.  We  are  also  urging  the  government  to  abandon  their privatisation  agenda.  The model of privatising public transport has failed miserably, most notably in England with fatal results.
"In Government Sinn Féin would abolish the motorway tolls, yet another tax  on  people  travelling to work. We also need major improvements for cyclists  and  pedestrians.  We  would  promote cycling by improving the quantity  and quality of cycle lanes and facilities and introducing free communal  bicycles  in  the  City Centre. The logic is simple, with more public transport there  would  be less cars, less traffic gridlock and less hassle when commuting and less damage to the environment. Sinn Féin is determined to achieve stress-free commuting in the Capital", the TD said.
Sinn Féin's proposals for Dublin Transport are being unveiled today (Thursday) and the week's activities conclude with local banner drops including at the East Link Toll Bridge by the Maireád Farrell/Jackie Griffith/Tom Smith cumann in Dublin South East.