15 March 2007 Edition
The Matt Treacy Column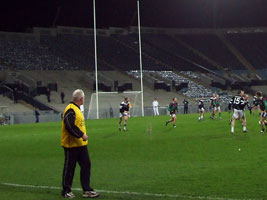 Victories for Ardfert and Greencastle
A prior commitment precluded me from attending last Saturday's junior and senior club football finals but ace cub reporter Larry O'Toole stood in and kept me updated. The Deputy for Kerry North was said at several stages to have been "animated" on the sideline, which will come as no surprise to anyone who witnessed him in action in his former residence in the midlands. Especially those who were accused of having been "reared with dolls" on fumbling the ball at a vital stage in a match.
As it turned out Ardfert won a tight, low scoring affair by 1 - 4 to 0 - 5. Not for the first time the decisive blow was struck by one of their prolific forwards. In this instance right half forward John Egan who also scored crucial goals in last year's junior All Ireland campaign. It is almost unheard of for a junior club to win a county intermediate the year following their promotion and that really places their achievement in perspective.
This year they will be plying their trade in the company of the elite of Kerry senior football but it would be a brave layer who would stand big odds against them adding to their amazing run of success.
In the junior final the other Kerry team Duagh were beaten by Greencastle of Tyrone. The hurling equivalents on Sunday witnessed another unique feat when Robert Emmets of London beat Killimordaly of Galway to win the Intermediate title and thus become the first London club team to win an All Ireland of any description.
Natives of eight different counties were represented on the Emmets panel with Cork having the largest number. Their captain Fergus McMahon possibly became the first Meath man to win a hurling All Ireland while Dublin's Sean McLaughlin became the first Dub for a long number of years to achieve a similar feat. Let's hope it's a habit that will catch on.
In the junior hurling final Danesfort of Kilkenny easily defeated Clooney Gaels from Antrim. Danesfort have the pleasure of one of the most gifted young hurlers in the country, Richie Hogan. One of those talents that they seem to produce with infuriating regularity and he was the main cause of Dublin's demise in the Leinster minor championship last year.
An uncle of mine trained Danesfort in recent years and used to play for them before throwing his lot in with near neighbours Bennetsbridge who were the kingpins of Kilkenny club hurling in the 1960s and early 70s with the likes of Jim Treacy, Seamie Cleere and Noel Skehan.
Myself and my brother used to stay there for our Summer holidays and we were even allowed play one or two games for 'Bridge'. For the camogie team. Only jesting, they would have been far too tough and libidinous for us!
When not hurling we were fishing or posting flattened frogs into the letter boxes of people who had offended us. Like latter day Whiteboys meting out agrarian justice. Halcyon days. Halcyon days. And it has all been downhill ever since.
Thankfully Dublin are no longer proceeding downhill. Last Saturday they destroyed a hapless Cork side who it is hard to believe had easily beaten Tyrone two weeks previously. Dublin were greatly aided by the return of Ciaran Whelan at midfield and of Jason Sherlock who caused havoc among the Cork defenders until forced to withdraw late in the first half.
With Donegal continuing their winning run with a victory over Tyrone at Omagh, and with Limerick, Cork and Fermanagh favourites for demotion and one destined for the ignominy of Division Three, the most interesting aspect of the remaining three rounds will be which of Dublin, Tyrone, Mayo or Kerry join Donegal in the semi-finals and which is consigned to Division Two.

Patrick's Day sees the turn of the senior clubs. Crossmaglen and Dr. Crokes of Killarney contest the football while the hurling decide is between Ballyhale Shamrocks of Kilkenny and Loughrea who continue the fine record of Galway clubs in recent years.
The football will be fascinating. Experience is on the side of the Armagh men but I just feel that the hours on the clock might tell and that Crokes could get the better of them. Ballyhale with Shefflin and Cha look formidable and will be hard beat in the hurling final.
My highlight of the Day, however, will be seeing the large snake that was designed by Ciara floating on the Liffey. It is only a matter of time before she is walking around with sunglasses on top of her head, incessantly chatting into her mobile. "I know, I know. It's so awful darling. I was just saying that to Ali Hewson the other night when I was designing a plastic frog for their rockery."
But of course by then she will have tired of her oul fella and I will be consigned to the wardrobe along with the Dublin jersey with Darren Homan's autograph on the back and the camogie helmet. Still, she might buy me a bottle of stout at Christmas when she's back from New York. Or at least send one by courier.