15 March 2007 Edition
Criminal Justice Bill : McDowell's latest gimmick destined to fail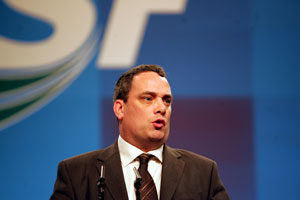 Assault on civil liberties
A new Criminal Justice Bill, introduced by 26 County Justice Minister Michael McDowell has been slammed by Sinn Féin. The Bill proposes to restrict the right to silence, greater use of mandatory sentences, and the introduction of electronic tagging for suspects released on bail.
McDowell's Bill, introduced on the back of public concern about organised crime, has has been circulated to Opposition parties before the Dáil begins debating it next week.
It includes a proposal to allow up to seven days detention and for a court to be allowed draw inferences from failure to mention facts during questioning.
It proposes allowing courts to refuse bail if, in the opinion of a Garda Chief Superindent, this would prevent further offences being committed.
And electronic monitoring may be a condition of bail.
On sentencing, the Bill makes it clear that mandatory sentences should apply in all but the most exceptional cases.
Sinn Féin Justice Spokesperson Aengus Ó Snodaigh TD described the Bill as an assault on civil liberties.
"Many of the provisions within the Bill are ill-thought out, irresponsible and destined to failure", he said.
"The proposal to electronically tag criminal suspects amounts to a dilution of the right to a presumption of innocence before being proven guilty and the Minister has also attempted to remove the right to remain silent by introducing a new Garda caution that refusal to answer questions 'may be taken into account when determining guilt or innocence'," said Ó Snodaigh.


Gimmicks
"While I would have no problem with stiff sentences for serious drug dealers, mandatory sentencing has never been proven anywhere in the world to work as a deterrent to serious crime. In fact they have proven to be expensive failures in other jurisdictions. Mandatory sentencing takes away the discretion of judges who have listened to the case and studied the evidence before them.
"International evidence shows that it is in fact the fear of being caught that acts as the most affective deterrent to criminals. Therefore we need to see a radical retargeting of Garda resources into the fight against crime. The redeployment of Special Branch detectives to criminal detectives and the introduction of a civilianised traffic corps would free up many fully trained Gardaí to be redeployed in crime fighting. This coupled with the use of existing laws and sanctions would prove far more effective in the fight against crime than McDowell's gimmicks.
"This legislation is just another in a long line of legislative gimmicks proposed by this minister who has more interest in making headlines than he has in tackling crime. I will attempt to introduce amendments to the Bill however, with just five hours of debate scheduled and having only received the Bill last night it is obvious that the Minister is not interested in listening to opposition or scrutiny and is determined to push this through to the detriment of many communities of which he and his party do not represent nor want to represent", the Dublin South Central TD said.