8 March 2007 Edition
Sinn Féin Ard Fheis 2007 : Health and Education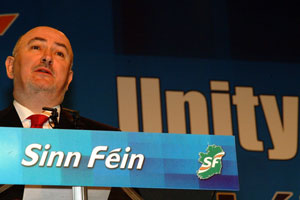 BY STEPHANIE LORD
The Health and Education section of this year's Ard Fheis was opened by Seán Crowe TD, Sinn Féin's 26 County spokesperson on education, whose address outlined the party policy that "education should be at the core of our society and equality must be at the core of our education. Although this state is one of the wealthiest in the world, our spending on education is one of the lowest, which is an absolute disgrace." Crowe condemned the Fianna Fáil/PD Government's failure to live up to its own commitments on class sizes and to reduce the teacher/pupil ratio to 1:15, as well as the current disgraceful situation where there are still many primary school children being taught in run-down prefabs and converted toilets.
Many of the speeches delivered by the Ard Fheis delegates echoed Crowe's sentiments. Sorcha Nic Cormaic, Sinn Féin general election candidate for Dublin South, spoke in support of Motion 103 calling for class sizes to be reduced. She described current government policy on education as "moribund": "It is about crisis management. This government are reactionary in the true sense of the word. They don't create and they don't inspire. This is reflected in all their policies," said Ms Nic Cormaic.
Dublin City Councillor Larry O'Toole spoke in favour of a motion calling for provision of a third level institute in the Dublin North East area: "Education is central to the egalitarian ideals of Sinn Féin's political project."
O'Toole told delegates that many areas of Dublin North East had the lowest take-up of third level education in the country and that this had a follow-on effect of "worsening existing inequalities and levels of marginalisation across the constituency".  He went on to say that having a third level institute "close to home" is a significant factor in determining access and that one was needed in Dublin North East to complement Dublin City University in serving the needs of the area's young people.
Other education motions passed included one that called for the third level maintenance grant to be increased to €6,000 and topped up to €10,000 for disadvantaged students, as well a motion supporting the delivery of comprehensive and age-appropriate sex education programmes in all primary and post-primary schools across the island.
The opening address to the Health debate was delivered by Sinn Féin Dáil group leader Caoimhghín Ó Caoláin TD. Delegates gave a very warm welcome to the Cavan/Monaghan TD who is recovering from a recent heart attack.
Emphasising that he really meant it when said that he was glad to be there Ó Caoláin said the Government's own commitments on healthcare had never materialised and he described their management of healthcare as a "shambles".
"Sinn Féin has led the opposition to the privatisation of our hospitals and we will continue to do so. One planned private hospital that will benefit from Government tax breaks is going to have 100 separate private rooms, each with a personal computer and a television. And while they are building up the private health sector they are downgrading our local hospitals throughout the country."
Sinn Féin was campaigning for healthcare rights and for a health system that serves all the people equally.
"This is only the start of March but already in 2007 the shambles that is Government health policy and healthcare management has been repeatedly exposed. The daily number of patients on trolleys and chairs in A&E in February reached 412, exceeding the highest total for February 2006.
And this is after Health Minister Harney claimed that the A&E situation has improved. Minister, tell that to the people on trolleys and chairs in corridors and store-rooms and broom cupboards!"
A large number of health-based motions were passed, including one mandating the party to carry out a review of reproductive rights policy, with recommendations to be brought before the 2008 Ard Fheis. Other motions called for pharmacists in the 26 Counties to be allowed to dispense emergency contraception and for the question of cannabis legalisation to be referred to the Sinn Féin All-Ireland Drugs Policy Review Group Speaking in favour of this motion, student nurse Oisín Dolan of Ógra Shinn Féin in Dublin City University argued that "much more damage is caused by the use of alcohol and tobacco. In terms of use, the real problem is, its sale channels funds to drugs gangs who exercise a stranglehold over some of the most disadvantaged areas of this island".
The Ard Fheis also called for the Irish Government and Minister for Health to provide more residential care beds on a public basis for those wishing to receive treatment for drug and alcohol addiction, as well as the separation of treatment of mental illness and drug addiction.
An Phoblacht Magazine
AN PHOBLACHT MAGAZINE:
Don't miss your chance to get the second edition of the 2019 magazine, published to coincide with Easter Week
This special edition which focuses on Irish Unity, features articles by Pearse Doherty, Dr Thomas Paul and Martina Anderson.
Pearse sets out the argument for an United Ireland Economy whilst Pat Sheehan makes the case for a universally free all-island health service.
Other articles include, 'Ceist teanga in Éirinn Aontaithe', 'Getting to a new Ireland' and 'Ireland 1918-22: The people's revolution'.