8 March 2007 Edition
Sinn Féin Ard Fheis 2007 : Peace Process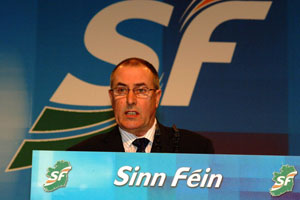 Spearheading the way to a united Ireland of equals
BY
LAURA FRIEL

Will Ian Paisley share power on 26 March? That was the question posed by Sinn Féin's Mitchel McLaughlin delivering the opening address of the debate around the Peace Process.
"In the event of Ian Paisley walking away, the process will move on regardless. That is the key difference. The DUP veto has been removed, not by the British or Irish governments, but by the people in this room. That's the reality of where Sinn Féin is positioned on the political spectrum, strong, resolute and delivering confident leadership," said McLaughlin.
 "We are genuinely committed to engaging with unionism. But the DUP has to come to terms with new political and social realities. We want to see Ian Paisley sharing power. We want to see Ian Paisley on the North/South Ministerial Council. But whatever their approach Sinn Féin will continue to drive forward the agenda for change," said McLaughlin.
"This peace process is working and will continue to work. The trajectory is now irreversible. Republicans are changing the political landscape of this island every single day. The two elections we face in the coming period will transform it further," said McLaughlin.


POLICING
Speaking on behalf of the Ard Chomhairle against motions attempting to undermine the decision of the Special Ard Fheis on policing, Gerry Kelly reminded delegates that all the issues raised in these motions had been comprehensively debated and "a hard and historic" decision had been made.
"It's not just about a new beginning to policing, it's about being in the driving seat of the peace process and political process. In the last few weeks of canvassing throughout the North, the support for our position on the doorsteps reflects the overwhelming vote given by the Sinn Féin delegates in the RDS a few weeks ago," said Kelly.
"We continue to go from strength to strength. In policing as in every other policy area it will continue to be a battle a day. We are spearheading a radical way forward to a united Ireland of equals. More and more people North and South support us in that endeavour. As we gain political strength we can achieve more towards our goal, more for ordinary people. We are making a difference in people's lives," said Kelly.
Speaking against a call for a Sinn Féin boycott of the policing boards, Imelda Munster said the motion would only serve to restrict negotiations and play into the hands of Sinn Féin's opponents.
"Let me state categorically that a return to the old days of a one sided sectarian police force will never be acceptable. In January the party membership overwhelmingly voted to authorise its elected representative to participate in local policing structures. Our directive is to secure policing within the community as the core function of the PSNI", said Munster
The conference voted overwhelmingly in support of the decisions of the Special Ard Fheis defeating all motions to the contrary.


UNIONIST ENGAGEMENT
Speaking in support of motion 51 praising the work of Derry's Joint Engagement Project and the Sinn Féin Unionist Engagement committee, Martin Kenny said:
"There is a myth in the Protestant community that republicans are determined to end their way of life and their identity. It is only through engaging at every level possible that we can set this matter straight.
"An inclusive Ireland is what we want, with a shared future for all our people. This creates challenges for us in Sinn Féin, to understand the unionist experience of the conflict. It also challenges unionists to understand our experience of injustice and conflict," said Kenny.
Gerry McHugh said in recent years Sinn Féin had taken the initiative in reaching out to unionists, finding common ground on common issues – water charges, health, education and jobs.
"In Fermanagh we have built on the leadership shown by people like Alex Maskey, who as the first Sinn Féin Mayor of Belfast broke down barriers and held out the hand of friendship and understanding not just to the unionist community but also to ethnic minorities and Gerry O hEara in Derry who developed the "Day of Reflection" initiative aimed at creating space for people of all backgrounds and traditions to reflect on the loss of life in war and conflict," said McHugh
"We must continue to address the differences 'carefully fostered' to divide a majority from a minority in the past," said McHugh.
Daithí McKay from North Antrim spoke of sectarianism in the DUP heartland of Ballymena.
"Unionist leaders still refuse to take responsibility for the sectarian violence carried out in their name. There is a failure of leadership within unionism. The DUP and UUP, instead of addressing the real needs of their constituents, focus on outdated expressions of sectarian triumphalism to maintain support," said McKay.
He said it was time that the fear factor was removed from loyalist areas and the causes of sectarian attacks on Catholics tackled by unionist politicians.
"The DUP cannot continue winding up members of the loyalist community with their rhetoric and then deny responsibility when it results in sectarian thuggery and murder," said McKay.
The conference endorsed motions in support of unionist engagement and an end to sectarianism.


PEACE DIVIDEND
Expressing disappointment with the British and Irish governments' announced peace dividend, Claire McGill from West Tyrone said despite the fact that the old unionist order at Stormont collapsed in 1972, discriminatory practices continued under British direct rule.
"The discriminatory policies may have been less overt but they continued to be pursued with relish in the "Continuity Stormont" operated by NIO mandarins who remained permanently in charge while part time British Ministers came and went," said McGill.
Sinn Féin had set out the arguments for a genuine substantial peace dividend that can tackle the legacy of under investment.
"Sinn Féin has a vision of an Ireland of Equals. This included equality of the regions, balanced regional development will ensure that all the children of the nation are cherished equally," said McGill.


WATER CHARGES
Water charges are a grossly unfair tax and will hit those who are least able to pay the hardest while there is no guarantee that the money generated by a water charge would improve services, Dessie Ward of Upper Bann told the Ard Fheis.
Sinn Féin had given a clear commitment that in government it will oppose water charges. People should not be forced to pay for the failure of successive British Ministers to invest in water services.
"It shouldn't be forgotten that the introduction of water charges was part of the Reinvestment and Reform Initiative negotiated in secret by the SDLP and UUP. Is it any wonder that is now commonly known as the Durkan Tax?"
Ward said that the announcement that a re-established assembly would have the power to stop water charges should spur on all other parties to share power.


COLLUSION
Speaking in support of motions relating to victims of the conflict Mary Lou McDonald MEP said in the wake of the McEntee report on the Dublin/Monaghan bombings due to be published this month, a full debate on collusion must take place.
"Nuala O Loan's report into the activities of a unionist death squad in north Belfast is just the tip of the iceberg. The British state has a case to answer and must be held to account for its murderous policy in Ireland," said McDonald.
"There are also serious questions to be asked of successive Irish governments. Why was there no proper investigation into the Dublin/Monaghan bombings and other attacks in this state? Why did the Fine Gael-Labour government do nothing when informed by the British that they had interned those men responsible? Why did they not seek their arrest?", she said.

An Phoblacht Magazine
AN PHOBLACHT MAGAZINE:
Don't miss your chance to get the second edition of the 2019 magazine, published to coincide with Easter Week
This special edition which focuses on Irish Unity, features articles by Pearse Doherty, Dr Thomas Paul and Martina Anderson.
Pearse sets out the argument for an United Ireland Economy whilst Pat Sheehan makes the case for a universally free all-island health service.
Other articles include, 'Ceist teanga in Éirinn Aontaithe', 'Getting to a new Ireland' and 'Ireland 1918-22: The people's revolution'.