8 March 2007 Edition
A time of great hope - McGuinness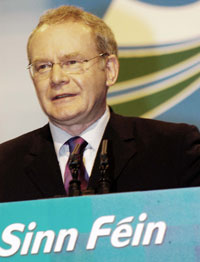 Delivering the keynote address to the Friday evening session of the Ard Fheis, Sinn Féin Chief Negotiator Martin McGuinness MP said it was a time of great hope "A time when we have within our sights the prospect of Ian Paisley, who began with 'Never', moved to 'No', then 'Maybe' and now a possible, some say probable 'Yes' finally accepting his nationalist and republican neighbours as equals."
He said the recent decision by Sinn Féin on the issue of policing had liberated the political process allowing republicans to again seize the political initiative and place pressure on rejectionists to 'do the business'.
Sinn Féin members had created the conditions in which the DUP have to accept for the first time ever power sharing and all Ireland arrangements if they want to be part of shaping the future.
"If that happens it will be truly historic, an acceptance by the leader of unionism that the days of unionist domination are over and, potentially, the beginning of a process of national reconciliation", McGuinness said.
On political opponents of Sinn Féin who said a power sharing government headed by Ian Paisley and himself could not work, McGuinness said their real fear is that it might succeed.
"What the media often terms the 'centre ground' would be more accurately described as waste ground of failed political initiative after failed political initiative.
"We will take no lectures from them on securing political progress when you look at what we have delivered in the course of the past 10 years and more. Our record of delivery is second to none", McGuinness said.
The concern of establishment parties in the South was not about Sinn Féin's presence in government but about the job the party would do when it got there.
"I believe that we would quickly show to the people that we were doing a better job than those who have sat around the Irish Cabinet tables for years squandering opportunity after opportunity and paying lip service to partition and inequality, and they know and fear that", he said.
Unionist veto is gone
"If the DUP refuse at this time to be part of the process of change, then the process moves on through new all-Ireland partnership arrangements. The DUP veto over progress has been removed. This is the logic of the Sinn Féin strategy over recent years. Politics, business, commerce and much more are now pointing in one all-Ireland direction. They are pointing in that direction because we have opened up the space for this to happen. We have laid the foundation upon which a new all-Ireland dispensation is being constructed.
These are truly exciting times to be an Irish Republican. There are more and more people from across all walks of life on the island who see the folly of partition and its increasing irrelevance in a modern world. Our job is to mould these people into a truly national movement for freedom", he said.
Sinn Féin needed to demonstrate to unionism that their future lies with the rest of the people in a united and independent country.
He pointed to the fact that the SDLP in recent weeks had been delivering 'Discover United Ireland' brochures through doors in the North.
"Their latest manifesto after 35 years might be described by their former Deputy Leader as 'a United Ireland for slow learners'. Where Sinn Féin lead others follow", McGuinness said.
Ready for government
"Sinn Féin stands ready for government. And rest assured the tenacity, vision and commitment with which we have driven forward the peace process will be brought to bear on the issues of government which really affect people's lives, be it water charges, rural development, poverty, rate hikes, the care of the elderly or health and education.
The process of change cannot stand still – we will not let it. We would prefer to continue generating change from within the Assembly, Executive and All-Ireland Ministerial Council. But, for whatever reason, if the DUP lose their nerve, we will continue driving forward our progressive all-Ireland agenda regardless – the days of unionism being able to dictate to a confident vibrant nationalist community are over. The vetoes are gone. Second class citizenship is no more."
He said that when Sinn Féin gathered again in Ard Fheis there had to be more TDs, more Assembly members and more government Ministers, and equally importantly there had to be more members.
"We must continue to build the struggle for Irish freedom, north and south, on the streets, in government, in our communities.
"The elections North and South were the next step forward for a freedom struggle systematically challenging and removing partition", he said.
An Phoblacht Magazine
AN PHOBLACHT MAGAZINE:
Don't miss your chance to get the second edition of the 2019 magazine, published to coincide with Easter Week
This special edition which focuses on Irish Unity, features articles by Pearse Doherty, Dr Thomas Paul and Martina Anderson.
Pearse sets out the argument for an United Ireland Economy whilst Pat Sheehan makes the case for a universally free all-island health service.
Other articles include, 'Ceist teanga in Éirinn Aontaithe', 'Getting to a new Ireland' and 'Ireland 1918-22: The people's revolution'.