1 March 2007 Edition
'Two Brendans' commemorated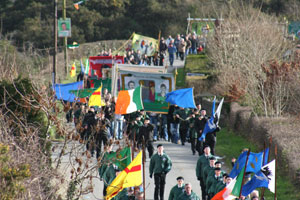 At the 19th annual commemoration of Volunteers Brendan Burns and Brendan Moley last Sunday, Sinn Féin's Michelle Gildernew told the large gathering that the principal goal and objective of the 'Two Brendan's' as they are fondly remembered, was to see this country united and free from British rule and interference. She talked of the courage and dedication of the two IRA Volunteers, and extended a special welcome to the Moley and Burns families who were in attendance.
"We take courage from the sacrifice of these and all Volunteers and we rededicate ourselves to the continuation of the struggle until we achieve our objective of a free, united Ireland – an Ireland that we can be proud of, an Ireland worthy of those sacrifices", she said.
Gildernew told the gathering that in the 19 years since the death of the two friends and Volunteers, Ireland had changed.
"The nature of the conflict has changed. The political landscape has changed. It has changed forever.
"It has been a long and difficult process, but republicans have remained focused. We have taken bold and courageous initiatives. We have become a political force to be reckoned with. We have shown leadership"
Gildrenew concluded by thanking the local Brendan Burns/Brendan Moley Cumann, Sinn Féin for organising the event.
"Sinn Féin is totally and absolutely committed to bringing the peace process to a successful conclusion. We are committed to bringing about Irish unity and independence and to representing all those who vote for us", she said.