1 March 2007 Edition
The Resistance Campaign 50 years on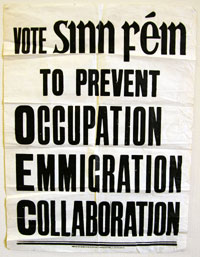 Mícheál MacDonncha'S monthly series marking the 50th anniversary of the IRA's Resistance Campaign – more widely known as the Border Campaign.
Four Sinn Féin TDs elected
Within three months of the start of the IRA's Resistance campaign in the Six Counties, voters went to the polls in a General Election in the 26 Counties. Polling day was 5 March 1957 and on that day, 50 years ago next week, four Sinn Féin TDs were elected, much to the surprise of the political establishment.
Sinn Féin fielded candidates in 19 of the 40 constituencies. The March issue of The United Irishman carried the party's election address. It reminded voters that two years earlier the constituencies of Fermanagh-South Tyrone and Mid-Ulster had elected Sinn Féin MPs Phil Clarke and Tom Mitchell who were republican prisoners. Mitchell, still a prisoner in Belfast's Crumlin Road, now stood as a candidate in Dublin North East. The election address said that politicians of all parties had let Six-County nationalists down and "are content to stand by and watch them suffer on indefinitely under British Occupation and British Repression".
The election address described partitioned Ireland:
"England's stranglehold on the industrial North-East is unbroken; the Gaeltacht is dwindling year after year; a quarter of a million of our youth and bloom lost in emigration over the last five years alone; 95,000 unemployed in the Twenty-Six Counties and 40,000 in the Six Counties.  Ireland literally 'lies broken and bleeding', while we are burdened with taxation to maintain two States and three Governments."
The significant level of public support for the renewed republican struggle was seen in the number of local authorities, as reported in the March issue of The United Irishman, that passed motions of sympathy on the deaths of Seán Sabhat and Fergal O'Hanlon. These included Dublin, Cork and Galway Corporations and the County Councils of Dublin, Kerry, Galway, Limerick, Mayo, Kilkenny and Louth. Some went further, including Sligo Corporation, which congratulated "the resistance forces in the Six Counties on their struggle against Partition", and Tralee Urban Council which called on the Defence Forces and the Gardai to "support the men who are fighting the common enemy in the Six Counties". On most councils any such resolutions beyond sympathy for Sabhat and O'Hanlon were opposed by Fianna Fáil and Fine Gael members who raised the spectre of conflict between the IRA and the 26-County State.
Republicans were anxious to refute this notion and in a lengthy statement in the April issue of The United Irishman, the Irish Republican Publicity Bureau, while condemning collaboration with British forces, said the resistance movement "will not carry out any operation in the 26-County area. Any attempt to link them with raids for arms or explosives or acts of sabotage in the 26-County area can only be viewed as a deliberate attempt at misrepresentation". The statement was signed 'J. McGarrity', the name used on all IRA statements of that period, as a tribute to Joe McGarrity, late leader of Clan na Gael in the USA.
Fifteen thousand at GPO rally
Fifteen thousand people attended a pre-election rally at Dublin's GPO on 2 March which heard Sinn Féin vice-President and Dublin South Central candidate Tomás Ó Dubhghaill say the turnout was the best answer to those who imposed a press ban on republican news and activities.
When the votes were counted Sinn Féin had secured the election of four republican TDs. In Sligo-Leitrim John Joe McGirl topped the poll. He was a prisoner in Mountjoy after conviction the previous January. Also in Mountjoy was Ruairi Ó Brádaigh who was elected in Longford-Westmeath. Protest at the imprisonment of republicans was a major factor in the election. By March 1957 there were 105 republican political prisoners in Crumlin Road, 53 in Mountjoy and seven in English prisons.
In Monaghan Éineachán Ó hAnnluain, brother of Fergal who had died with Seán Sabhat in the Brookeborough raid, was elected for Sinn Féin. A torchlight victory rally in Church Square, Monaghan, was addressed by the new TD and by Séamus Sabhat, brother of Seán.
Veteran republican John Joe Rice was elected in South Kerry. He told a victory rally in College Square, Killarney, that he believed the people of South Kerry were staunchly republican and urged them to "organise, stand shoulder to shoulder and stand up for your rights".
In a message to his Longford-Westmeath constituents, Ruairi Ó Brádaigh said the election "must be a wonderful source of hope to our people in the North who have been abandoned for so long". There was a similar message at the conclusion of the Sligo-Leitrim count from Jim Dolan, election agent for John Joe McGirl. He said it would be "an answer to Lord Brookeborough and his Quisling government and to Mr. Costello who during the past three months had been responsible for sentencing many young men to terms of imprisonment".
The Sinn Féin election successes of 1957 were to be short-lived. Maintaining a policy of abstention from Leinster House, the party was unable to consolidate its victories and all four seats were lost in the general election of 1961. That said, the election of 1957 had shown the extent of republican support and potential support at the beginning of the Resistance campaign.
Sinn Féin candidates 1957 General Election
Sligo-Leitrim   John Joe McGirl  7,007 (Elected, topped poll)
Kerry South   John Joe Rice  5,582 (Elected)
Longford-Westmeath      Ruairi Ó Brádaigh  5,506 (Elected)
Monaghan   Eineachán Ó hAnnluain  4,791 (Elected)
Cork Borough  Seán Ó hÉigeartaigh     4,789
Dublin North East  Tomás Mistéil 3,346
Cavan   Pádraig Ó Dubhthaigh 3,308
Kerry North  May Daly 3,171
Limerick East      Pádraig Ó Maolchathaigh 3,085
Louth  Labhrás Gruagáin 2,991
Laois-Offaly     Bhaltar Mistéil 2,939
Roscommon  Seán Scott 2,741
Meath      Seán MacCormaic 2,658
Galway North      Pádraig Ó Ceallaigh     2,551
Tipperary North  Aindrias Mac Domhnaill 2,548
Dublin South West  Seoirse Dearle 2,442
Cork East  Liam Ó Mochlóir     2,365
Galway South      Murchadh Mac Ualtair 2,086
Dublin South Central    Tomás Ó Dubhghaill 1,734

An Phoblacht Magazine
AN PHOBLACHT MAGAZINE:
Don't miss your chance to get the second edition of the 2019 magazine, published to coincide with Easter Week
This special edition which focuses on Irish Unity, features articles by Pearse Doherty, Dr Thomas Paul and Martina Anderson.
Pearse sets out the argument for an United Ireland Economy whilst Pat Sheehan makes the case for a universally free all-island health service.
Other articles include, 'Ceist teanga in Éirinn Aontaithe', 'Getting to a new Ireland' and 'Ireland 1918-22: The people's revolution'.