22 February 2007 Edition
Dáil general election profile: John Dwyer, Wexford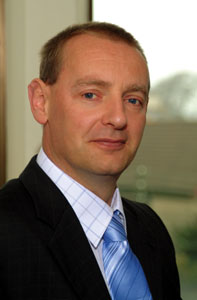 'People cannot pay their bills and are in constant debt'
JOHN DWYER is Sinn Féin's Dáil candidate for Wexford. A former trade union representative, John is chair of New Ross Town Council and also serves as a Wexford County Councillor.
John (43) is married to Lorraine and has four children. He is a life-long republican and joined Sinn Féin in 1981. He cites among those influences who stirred his childhood political passions as being James Connolly, rousing rebel songs and, oddly enough, his granny's constant mimicking of the RTÉ Television show, Hall's Pictorial Weekly, and its lampooning of Fine Gael Taoiseach Liam Cosgrave as "Minister for Hardship", and Minister for Finance Richie Ryan as "Richie Ruin", whenever they appeared on telly in the 1970s.
John Dwyer tells PHILIP CONNOLLY about how he wants to place his county at the heart of revolutionising local and central government to make it more efficient for the people it is supposed to serve.
Is their a history of politics in your family?
No, not hugely, and my family would be very typical in that way, but I remember there was an interest in it. They were republicans who voted Fianna Fáil and Labour.
You don't have to have an empty fridge to know that the government is doing a bad job and that was why ordinary people like my grandmother would hurl abuse when certain politicians came on telly to parade their own incompetence. I remember Fine Gael's Richie Ryan was a particular hate-figure for her. But it was essentially Civil War politics. 
How did you become involved in Sinn Féin?
For as long as I can remember I have always felt passionately about a united Ireland. Maybe it was the rousing rebel music that I enjoyed as a child. I am proud to be working class. People deny the existence of a class system now. I think a lot of people aspire to get beyond it, and that's fine by me, but it does exist. It is just more subtle than before.
When I left school at 17 I moved straight into the factory and within three months I found myself serving as union shop steward. The effect of that was stark. I found working people to be completely at the mercy of multinational employers. I had just left school and there I was sitting negotiating with the factory big-wigs. I became angry at the sort of things which workers had to tolerate, not just in Ireland but all over the world.
The trade union movement at the time, in the 1980s, had pretty much become fat and self-serving. I think it had a fear of rocking the gravy train.
It was my experience in the unions that grounded me in organised politics. I was already a great admirer of James Connolly and the Citizen Army. When I saw the H-Block Hunger Strikers making the ultimate sacrifice, I was inspired. I made the connection between their historic struggle and the historic struggle of workers. That's when I joined Sinn Féin. It was a natural home for my view of the world.
What has impressed you most in your time as a councillor?
The dignity of the people who have been left behind in our society is one of the things that I most admire.
The system of social welfare and rent allowance is, in my view, a poverty trap. The rent allowance system benefits landlords above everyone else at the expense of social and affordable housing. It has been largely left to the extortionate free market to house those most disadvantaged.
Who in their right minds would take up low-paid employment with childcare and healthcare costs, only to find that their rent bill takes every penny that they work for? That situation is allowed continue because of the property cartel that exists in Ireland, with the landlord class often being the local big-wigs in the mainstream political parties - the same parties that neglect social housing needs.   
Can you give me an example of the existence of a modern class-system?
The rise of the two-tier health service is a prime example. In Wexford we have been campaigning for years for a radiotherapy centre for cancer patients. We have seen the opening of a private radiotherapy centre in Waterford. I have lost family members and close friends to cancer. The endless, exhausting journeys to Dublin left them at a distinct emotional and psychological disadvantage, which is critically important when battling cancer. Now we have the VHI with the money to run a clinic for those who can afford to pay. How did that happen? You can't blame it all on the PD tail wagging the Fianna Fáil dog. Fianna Fáil are ultimately responsible for the injustice of today's two-tier system, going right back to Haughey's savage cuts in the 1980s.       
A recent poll suggested that only 4% of people find it hard to make ends meet today. Would that be true in your experience?
Absolutely not - unless all those people are living in New Ross, Gorey, Enniscorthy and Wexford.
Every day I am talking to people who cannot pay their bills, who are in constant debt. For these families, the daily targeting of children as consumers has had a disastrous and immediate effect on their ability to simply get by.
Don't get me wrong, I am not advocating a Nike fund for working-class kids, but these are genuine problems for working-class people in this country and I would say all over the western world now.
We have had conservative administrations here for as long as I can remember. What do you feel is the future for left-wing parties and activists in Ireland?
I believe that those who genuinely work for the benefit of the entire community through local government find that our workload is complicated by layers of petty bureaucracy. This system has been inherited from the British and is hot-wired for clientism. It has to be overhauled or scrapped.
I think anyone entering politics now should be given the opportunity to complete some kind of a course on how to organise to maximum effect and the role of local and national representatives. I think this would be of huge benefit to the left. And I wouldn't leave it to local authorities. I would like to see Sinn Féin organise its base for the future with reforms like this in mind.
It needs to be done in order to make the system, especially for new councillors, much more focused and efficient. I think it is in the gift of Sinn Féin to revolutionise the system that we have inherited.
If the day ever came when the left ceased to work for the ordinary people, and if it isn't a force for radical change in terms of corruption, political clientism and social justice, then I for one would turn my back on it.   
If you could give one reason for the rising popularity of Sinn Féin in Wexford, what would it be?
For me, it's not about the numbers or bringing finality to a given quota of problems. Behind most of the problems that people approach me with there is a tangible level of despair. If you don't feel acute empathy, then you're in the wrong job as a public servant. You simply can't shut off from people's problems, you must link into them. That's what motivates me.
When a problem is resolved, which may often only involve a few phone calls to some unaccountable bureaucrats, then the level of appreciation also becomes tangible. I think that ethos more than anything is working in Sinn Féin's favour here in Wexford.
 • John Dwyer with his wife, Lorraine and daughters Kerri and Eimear outside the Progressive Democrats Conference at White's Hotel, Wexford, Saturday, 17 February, 2007
An Phoblacht Magazine
AN PHOBLACHT MAGAZINE:
Don't miss your chance to get the second edition of the 2019 magazine, published to coincide with Easter Week
This special edition which focuses on Irish Unity, features articles by Pearse Doherty, Dr Thomas Paul and Martina Anderson.
Pearse sets out the argument for an United Ireland Economy whilst Pat Sheehan makes the case for a universally free all-island health service.
Other articles include, 'Ceist teanga in Éirinn Aontaithe', 'Getting to a new Ireland' and 'Ireland 1918-22: The people's revolution'.