8 February 2007 Edition
Letter to the Taoiseach By Barry McElduff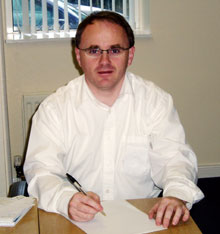 What is the difference between 15 Gaelic Footballers from Tyrone and 15 from Dublin?  The first group of players are banned from voting in an Irish Presidential election whereas, the second batch are entitled to vote.  Not the most obvious answer over the weekend but it is my answer nonetheless.
I thought that Kieran Shannon of the Sunday Tribune was getting a bit carried away when he predicted that this was going to be Dublin's year. "The National Football League.  Leinster.  Sam.  The lot." Having said that, only a fool would rule out Dublin but I would recommend to Kieran that he should try to regain a sense of perspective.
While I'm on the subject of the Sunday Tribune, that newspaper was kind enough to give out a colourful map of Ireland in the 21st Century.  An awful pity that it recorded the population of Ireland as 4,234,925 in its pictorial snapshot of 21st Century Ireland.  One had to search a bit further for the information that the population of the North currently amounts to 1,710,300.  If we add these two figures together, we arrive at the total 5,945,225 (I think).  It would have been a lot handier if this information had been properly presented without putting the reader through some unnecessary arithmetic.
I dug out a good quote at the weekend:
"There are people who claim to find a great difference between Northern Ireland and the rest of the country.  Note that Ireland is a small island - at its widest, 200 miles across, and from North to South at most 300.  It was never divided until the year of Our Lord 1922.   Yet you will find those who make out that for centuries there has been a basis for such a division.  There are, of course, people who tell us that the earth is flat." 
 - Douglas Gageby.
Now there is a quote.  Wasn't Douglas Gageby the editor of the Irish Times?  His comments pre-date 1974 for what it is worth.  Taoiseach, you might think I harp on a bit about these things, and maybe I do.
Moving on, I am not sure how fulsome and hearty I should be in welcoming the new Dáil Committee which will allow MPs from the North to participate a bit in the political life of the nation.  I would want to see this thing develop still further but I will come back to you in more detail about this in the near future. Brian Hayes isn't too impressed.  But then very few are impressed with Brian Hayes. 
Forgive me for switching topics but I had a very good meeting on Monday morning of this week with Siobhan Fitzpatrick, Chief Executive of NIPPA - the Early Years Organisation.  We had a great discussion about the value of investing in children at the earliest possible stage and also the need to support parents, particularly mothers, if we are to properly nurture the potential of each child
I understand that Denmark is very progressive in this area and that the Danish Minister for Education believes that a greater percentage of the GDP should be spent on Early Years Provision than on Defence.  Apparently, he reckons those seeking a greater share of the budget to build up the Danish Army should be encouraged to organise jumble sales. What do you reckon?
I might be in Dublin later in the week.  I might give you a shout.
Is mise le meas
Barry McElduff
NB - Bertie Ahern can be contacted on (00353) 1 6194020 or email [email protected]  Address: Office of the Taoiseach, Government Buildings, Dublin 2