8 February 2007 Edition
The Matt Treacy Column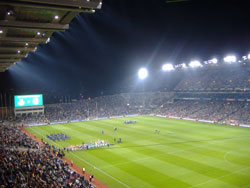 The art of the second-half collapse
There are some turning points in a match that you learn to recognise immediately. Time when you should really get up, beg the pardon of the person beside you and leave. Last Saturday, it was when Dermot Connolly was about to take a place-kick and some genius decided this would be a splendid time to start a chorus of "Come On You Boys in Blue."
Just the thing to settle a chap's nerves. Of course, he missed and Dublin's rapid disintegration gathered pace. Then, when a chap might need someone to lift his spirits, there is silence. Certifiable loons like myself will continue working ourselves up into a state of apoplexy but mostly there is silence. A gloom descends that is palpable and seems to spread itself towards the pitch. Or perhaps it is more of a symbiotic relationship.
Anyway, whoever believes that Dublin playing in Croke Park have an advantage wants their head examined. I remember writing here once that Mayo footballers must relish a trip to Croker in the same way that Aztec maidens cherished a day out at the human sacrifices. I suspect that, deep in their psyche, Dublin footballers may feel the same. Maybe it should be known as 'Choker'. Whether it is the expectation or the intensity of the relationship with Hill 16, it all seems to impose an intolerable burden on big days under which Dublin teams wilt and die.
Dublin rarely get beaten in Parnell Park and from talking to people who have played there on opposing teams it is regarded as much more intimidating (in the best possible sense!), than Croke Park. The smaller pitch, the crowd pressed close to the sideline and devoid of those who think that the GAA season begins in June, it is where you see Dublin GAA at its best, and Dublin football and hurling teams at their best. So my solution is to play all of our championship – as well as league – matches there.
While the Dubs will rue and ponder upon another in a long line of second-half collapses, Tyrone will be pleased that they appear to have the makings of a panel to mount a serious challenge this year. They will be slightly concerned that they failed to score from play at all in the first half, but with Stephen O'Neill still to return that is a problem that can be addressed.
Apart from the match there were lots of alleged entertainments laid on. We managed to delay our entrance to miss all of that, especially the Saw Doctors. And that has to be a good thing. To add to that, during the first half we had the appearance of another sexual deviant who get their kicks from exposing themselves to large numbers of people.
Large numbers of people apparently find it amusing and people will tell you that it's all a bit of craic. Indeed. Well, I can imagine that if I was to do that down at a club match some morning that it would be looked on with less than amusement and that the Guards might well become involved: if only to identify the remains.
Elsewhere there were a number of surprises. Mayo, I suppose, will take some comfort from again overcoming Kerry in the league, but it is unlikely to sow panic in the camp nor have any significance if they meet later on in the year. It was also remarkable as one of several matches that featured a surfeit of yellow and red cards without it containing any particularly nasty incidents.
Another of these was in Pairc Ui Rinn where Cork were reduced to 13 players and were beaten by a Donegal team that is already being talked about quietly as a possible contender. Brendan Devanney has been enticed back but he also departed early on the orders of referee Syl Doyle.
Other notable surprises were the defeat by Leitrim of Offaly in Cloone and Waterford's win over Wexford at Dungarvan. Cavan suffered a similar reverse there last year and it promises to make for an interesting series. Wicklow signalled their intent with a decisive win over Antrim in Aughrim and travel to Cavan on Saturday to play their hosts under lights.
Finally, on a more parochial note, best wishes to the Erin's Isle senior hurlers who play Crumlin in the league final on Saturday. The deferral of the fixture meant that the lads missed out on Christmas dinners and were reduced to eating pasta and drinking carrot juice over the festive season. A deficiency that will be made up for by Saturday night hopefully in a celebratory atmosphere.