8 February 2007 Edition
Dáil general election profile: Daithí Doolan, Duiblin South-East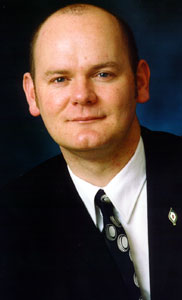 Bringing energy and vibrancy to politics
Dublin City Councillor DAITHÍ DOOLAN, Sinn Féin's general election candidate in the Dublin South-East constituency, will be battling against the fiercely anti-republican Tánaiste, Justice Minister Michael McDowell, for one of four seats.
Daithí is a familiar figure on his push-bike, criss-crossing the traffic-clogged capital between meetings and protests.
Listeners to radio talk shows will know that Daithí brings an energy and vibrancy to politics borne not just of debates around the family kitchen table as he grew up in Cork but through bitter experience. Daithí Doolan has been an emigrant worker (what's called an economic refugee nowadays) in Thatcher's Britain, working in mainland Europe and then in Dublin's south-east inner city as a tireless community activist, where he now lives with his wife two young children. He talks to ARAN FOLEY.
You grew up in Bishopstown, in Cork City, but it wasn't against the sort of political background you might expect of a left-wing republican with a proven commitment to anti-racism, was it?
[Daithí laughs] No, in some ways it wasn't. As a young man in the 1930s, my father, responding to the calls by the Catholic Hierarchy, went with the Blueshirts to fight for Franco. That said, he was very supportive when, at the age of 15, I got involved in the Campaign for Nuclear Disarmament and later the anti-apartheid movement, particularly supporting the Dunnes Stores strikers in the ANC-backed boycott of goods from racist South Africa.
My mother might not have been so vociferous in her views but she spoke of Ghandi and Martin Luther King as her heroes.
Whatever the debate, though, the general atmosphere in the house was one of tolerance, anti-racism and a respect for people's individual rights.
'Taking the boat' to England was very influential on your life; how?
In 1987, I did the Leaving Cert and, along with 19 others - nearly 50 per cent of my class - I emigrated to England with £60 in my pocket. At the time, all the big plants in Cork such as Sunbeam and Ford were closed down and a lot of people just expected to emigrate. It was the same throughout the 26 Counties in the 1970s and 1980s – emigration wasn't unusual but it was through necessity, not by choice.
I gravitated towards Brixton, in South London, and after a few weeks I got a job in the stores at the Tate Gallery. I was amazed at the level of anti-Irish racism, even in such a supposedly cultured environment as the Tate, but it was a symptom of the ethnic and class divisions that were rife in Thatcher's England.
So what did you do?
[Laughs] I left! It was such a cauldron of prejudice, injustice and greed - it was full of 'yuppies' and the callous selfishness that was symptomatic of Thatcherite society - so I went travelling to Germany, Turkey and Greece.
In Greece, I had this extremely mundane job pulling sheets through a roller for nine hours a day. That gave me lots of time for political thinking. It gave me a chance to see things from outside the boxes of Britain and Ireland and I went back to London in 1989 with a more developed republican analysis... and a determination to put my politics into action.
How?
I immediately joined the Troops Out Movement and I was active on the streets in opposing the fascist British National Party. Housing was an issue too, even in a city as large as London, and I was active in homeless and squatters' rights politics and protests.
But then, in 1992, I came to a decision that I wanted to make a more direct contribution to the struggle than solidarity work and so I returned to Ireland, coming home to Dublin from my travels abroad.
What was it like coming back to politics in Dublin?
I was employed as a community worker in the south inner city and I immediately joined the Mairead Farrell Cumann in Dublin South-East when I got back to Ireland but things were tough for Sinn Féin even though local activists were working hard.
From a point in the 1992 general election when Sinn Féin polled 3.5 per cent of the vote, in 2004, I was elected to Dublin City Council with a Sinn Féin vote of more than 24 per cent. We can cause an upset against Michael McDowell here.
You say that Dublin South-East is a microcosm of Ireland in general. How?
Dublin South-East has well-to-do areas such as Ballsbridge, Donnybrook, Merrion and Sandymount, Terenure and Rathgar but it also includes work-class neighbourhoods like Pearse Street, Ringsend and Irishtown and Rathmines/Rathgar, home to many a flat dweller over the years.
It contains some of the most affluent areas and some of the most disadvantaged. It is a showcase for the inequalities that exist in the country.
You've had a long history in campaigning not just against the drugs dealers but for better treatment for addicts and education campaigns to prevent youngsters becoming the addicts of the future. Has cocaine taken over as the biggest scourge?
Although gun crime and cocaine are most certainly a problem and are focused on by the media, the scourge of heroin is ever-present.
One of the projects I'm proud to be involved in is the Spellman Centre in Ringsend. It is a community response to a community problem. We have a large list of clients both for problems with heroin and with cocaine.
You've also been very active in supporting the campaigns for workers' health and safety.
Yes. A constituent of mine was killed recently on a building site in Ringsend. If you just look about the Docklands, on both sides of the Liffey, there are developers making millions while workers are being buried in trenches.
If this was any other profession, such as the Garda or accountants, there would be a national outcry, but because building workers are working class it would seem that their lives are expendable as far as this government is concerned.
The building of an incinerator in Ringsend, in the Poolbeg Peninsula, has been a source of major community concern but has brought a mixed reaction from local TDs, hasn't it?
The incinerator has been met with universal resistance, except from the local PD TD, a man who has the most power to stop the incinerator in its tracks – Tánaiste Michael McDowell.
McDowell claims he is opposed to the incinerator but has done nothing. Where was he when the decision was made to include it in the Programme for Government - was he out of the room? Maybe he was washing his hands.
Michael McDowell has yet to explain himself properly on this issue.
And the Fianna Fáil candidates have some explaining to do too.
Sinn Féin isn't the biggest party on Dublin City Council or in Leinster House, so have you been able to do anything practical about the incinerator plan?
Well, apart from actively supporting all the community protests and initiatives against the incinerator, my motion opposing an incinerator in the Poolbeg Peninsula has been adopted by Dublin City Council.
The council has also backed a Sinn Féin motion to force industry to cut back on packaging.
The trouble is, the FF/PD Government and the (unelected) City Manager have overturned these democratic decisions by the country's largest local authority. It's outrageous!
So why should voters in Dublin South-East be thinking about returning a Sinn Féin TD in the general election?
In a nutshell: to get a TD with a proven track record of hard work in the constituency; to send a message to Michael McDowell and his government that people don't want the FF/PD incinerator on our doorsteps; and, not least, to give a vote of confidence in the courageous moves that Sinn Féin is making to make a success of the peace process.