8 February 2007 Edition
DUP failing its own electorate - McLaughlin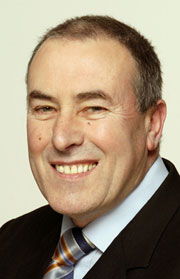 Sinn Féin's Economic spokesperson and Assembly candidate for South Antrim, Mitchel McLaughlin, has accused the DUP of allowing its fear of sharing power with republicans to fail its own electorate.
He said:
"The DUP has a crucial decision to make before 26 March. Failure to act decisively and take their positions in the power-sharing structures of the Good Friday Agreement will succeed only in condemning the population – including their own electorate – to the heavy hand of the British Exchequer.
"It is a matter of record that the British Exchequer bases its fiscal policy on what is best for the economy of Britain with the specific conditions prevailing in the North of Ireland playing no part in the decision-making process. This is borne out by the fact that the comparative high cost of living here combined with wages which are only 85 per cent of those in Britain is inconsequential to British economic planning.
"The majority of employment being created here is in low-paid, low-skill, insecure call centre and service sector jobs. This, combined with high energy costs resulting from a bad privatisation deal by British direct rule ministers, is contributing to increased hardship for people here.
"Unless we take control in a devolved power-sharing government, with its all-Ireland potential for building a strong island-wide economy, we will be abandoning our community to continued regressive direct rule tax regimes such as water charges,  massive regional rates increases and other measures over which we will have no control.
"The only party refusing to give a commitment to removing unaccountable direct rule government is the DUP. Will the DUP now give an assurance that it will abide by the democratic wishes of the electorate and take its responsibility seriously to form a government with whichever parties receive sufficient mandates to participate in the Executive? Or is it going to continue to fail its electorate by giving carte blanche to unaccountable British ministers to impose draconian economic measures on a helpless public?"