8 February 2007 Edition
Nurses vote for strike action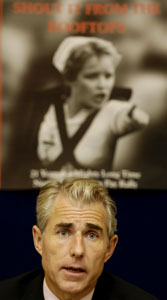 BY ROBBIE SMYTH
Health Minister Mary Harney has reopened contract talks with 2,100 high-paid hospital consultants but has refused to deal with oustanding issues on wages and conditions for 40,000 front-line nurses, provoking a vote by nurses for strike action.
It is clear that not only do we have a two-tier health system but we have a massive double standard in managing the service.
Consultants who earn between €150,000 and €190,000 annually are allowed to work at the same time with private patients in public hospitals, earning even more money, while nurses in the front line of medical care are told to wait for a flawed benchmarking process to deal with their wages and working conditions.
Where do you stand?
For Sinn Féin's Health spokesperson, Caoimhghín Ó Caoláin, it is a simple choice of where you stand: "Is it with the Minister for Privatisation and A&E Queues or with the nurses and the midwives?"
The Irish Nurses' Organisation (INO) and the Psychiatric Nurses' Association (PNA) voted last Friday, 2 February, to serve 21 days' notice of industrial action on the Health Service Executive. Ninety-six per cent of INO members and 97 per cent of PNA nurses voted for strike action.
Though the two unions will not reveal exact details of the strike action, it is believed that the nurses will initially work to rule while also beginning a series of rolling stoppages of short duration.
INO General Secretary Liam Doran committed the nurses to providing emergency cover but warned that the HSE will have tomake sure they pay the nurses for this work. Des Kavanagh, secretary general of the PNA, said:
"These strike issues have been outstanding for years. The ballot confirms the determination of our combined memberships to make progress on these issues."
Parity of hours and wages
Central to the nurses' claims are issues about hours worked and parity of wages.
The nurses are looking for the 35-hour week which is standard across the health service except for nurses, who are rostered for a 39-hour week. The nurses first raised this issue 20 years ago — in 1987!
All of the therapeutic grades and laboratory grades in the health service are working a normal week of 33.75 hours. Non-consultant doctors work a net week of 34 hours before overtime. Even gardaí who have to be on shift over a 24-hour period work a net 35.25 hours before overtime begins. These other professions have paid breaks while nurses and midwives have unpaid breaks.
The nurses are also looking for the elimination of an anomaly which sees staff nurses and midwives paid less than childcare workers, some of whom are unqualified.
Dealing with this demand would involve a 10.6 per cent wage increase across the board for all nurses and it is this money that Health Minister Mary Harney has refused to pay, maintaining that the claim cannot be afforded.
Childcare workers received a substantial wage increase in 2001 and, after strike action in 2002, so did assistant house parents in childcare homes. However, the assistant house parents can hold their posts without third-level qualifications while nurses have to have an honours degree to enter their profession. Nurses also receive no pay for the first three years of training and in the fourth year of work have to live on a reduced wage.
Other issues in the dispute are a claim for parity with other healthcare professionals such as chiropodists, dieticians, occupational therapists and speech therapists, who are all on a common scale. Nurses are on a lower wage scale despite having professional qualifications on a par with these other grades.
Nurses have asked why their professional entry requirements, their academic and practical training and standing within the health service are considered less worthy than other healthcare professionals.
Dublin allowance
The nurses are also looking for a Dublin weighting allowance. They argue that city weighting allowances are a feature of wage systems in Britain in both the public and private sector. According to the Economist Intelligence Unit, Dublin is now one of the most expensive cities in the world  and should now be recognised as such by the HSE.
The nurses' organisations have consistently highlighted the issues of recruitment and staff retention in the capital as a problem. Housing, transport and childcare were all highlighted by the INO and PNA as extra costs their members are paying while working in Dublin.
The FF/PD coalition government has stayed silent on the nurses' strike vote despite being prepared to negotiate with the hospital consultants who have been holding up the hiring of up to 1,600 new consultants.
Sinn Féin support
Sinn Féin's Caoimhghín Ó Caolain applauded the unanimity of the nurses' votes and pledged Sinn Féin's support for their campaign.
"Nurses and midwives are on the front-line of our health services, delivering care to patients in very difficult circumstances because of the gross inadequacy of a health system that successive governments have failed to reform. Their pay, working conditions and working hours need to be addressed as a matter of priority."
The next step in the dispute is three lunchtime protests organised by the nurses. They will be held in Cork University Hospital on 26 February; University College Hospital Galway and Limerick Regional Hospital on 2 March; and Dublin's Mater Hospital on 9 March.