25 January 2007 Edition
International messages of support for initiative on policing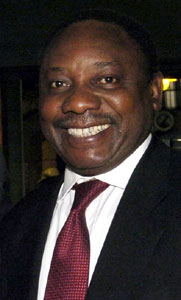 In a statement received by An Phoblacht on Wednesday, leading ANC member Cyril Ramaphosa praised what he called the decisive leadership shown by the Sinn Féin leadership in facing up to the difficult issue of policing and by calling a special Ard Fheis to decide on the issue.
He said: "The process of transition from conflict to peace is not easy. Peace processes have to overcome many difficult obstacles. Old prejudices have to be set aside and risks taken in pursuit of political objectives and peace.
The South African peace process had many ups and downs. Not least among these was reconciling the old apartheid police structures into the new South Africa. This was very difficult but with perseverance we succeeded.
We understand the political and emotional problems created by bad policing in the past and the enormous challenge policing presents to Sinn Féin.
"Sinn Féin has made significant progress in negotiations in recent years and especially in recent months on this issue.
Because of this and the leadership it has consistently shown throughout the peace process I am certain that Sinn Féin will successfully resolve this difficult issue as they have so many others in recent years.
"Let me also urge other parties to this conflict resolution process to work in partnership with Sinn Féin to make a better future for the people of Ireland. All of the parties have to play their full part in this."
Palestine
Meanwhile Palestinian Ambassador to Ireland Hikmamt Ajjurie said in a statement: "Since the signing of the Good Friday Agreement on April 1998, the leadership of Sinn Féin has tirelessly worked to bring a happy conclusion to the conflict in Northern Ireland.
Sinn Féin's experience in peace making has made them more than welcome in other troubled areas in the world in particular Palestine, which received Mr. Gerry Adams lately.
Yet Peace making will never materialize unless it is accompanied by peace keeping measures.
The Recent courageous initiative of calling for agreement on Policing by the  leadership of  Sinn Féin is in my opinion the proof  of the true commitment of this leadership  to a long lasting peaceful settlement  in Ireland .
I proudly share with this leadership (under party president Gerry Adams) the commitment to ending human suffering caused by the lack of justice  as in our case the Israeli military occupation of Palestine. This common commitment makes me certain that Sinn Féin leadership will succeed in its efforts to face up to the difficult issue of support for policing in spite of the problems this process might entail.
"I find it morally necessary to urge the other parties and in particular Dr Paisley not to miss this golden opportunity to send a clear message to nationalists and republicans that they are up for making the Good Friday Agreement work and are prepared  to share power  with Sinn Féin on 26  March.
"I would like to draw the attention of all leaders in Northern Ireland  that peace is only made by brave leaders, and  that the price of peace, no matter how expensive  is far less costly  than war.
The visionary, and courageous leadership of Sinn Féin, in taking this step on policing issue within the overall goal of achieving lasting peace should be recognized and commended."
Messages of support were also received from Francis Wurtz, President of GUE/NGL group in the EU parliament of which Sinn Féin is a member, from US Congressmen Richard Neal who is also chair of the Friends of Ireland committee in the US House of Representatives, James T Walsh and from US Representative Frank Pallone Jr.