25 January 2007 Edition
Collusion: O'Loan report exposes Branch collusion in UVF murder campaign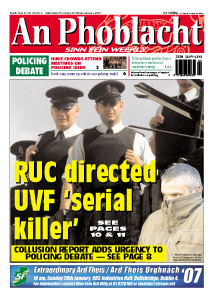 Special Branch colluded with "serial killer"
BY LAURA FRIEL
Special Branch knowingly colluded with a "serial killer" providing cover, protecting him from prosecution and paying him at least £80,000 for his services as an agent. Special Branch agents operated outside the law and Special Branch officers covered up their crimes.
This is the damning conclusion of a three-year investigation by the Ombudsman Nuala O'Loan into the murder of 22-year-old Raymond McCord Jnr, the agent who ordered the killing, the UVF gang who carried out the murder and members of Special Branch who covered it up.
Raymond McCord Jnr was beaten to death by the UVF in November 1997 following an illegal drugs smuggling dispute. The killing was ordered by a Special Branch agent, identified in the report as "Informant 1" but widely known to be Mark Haddock, and carried out by members of his North Belfast gang.
According to O'Loan, the Mount Vernon UVF gang was not only headed by a Special Branch agent, but other members of the gang were also working as agents.
And it doesn't end there.
The investigation directly links Haddock with the murders of ten people and cites credible evidence to link him with further murders, shootings, beatings and bomb attacks as well as a catalogue of other crimes including drug dealing, extortion, intimidation and criminal damage.
And throughout it all, Haddock enjoyed the full support of his Special Branch handlers who not only continued to pay him but also increased his wages. When Catholic good Samaritan Sharon McKenna was shot dead in 1993, Haddock was being paid £100 a month, after the killing his payment increased to £160.
The report found a "pattern of work by certain officers within Special Branch designed to ensure that Informant 1 and his associates were protected from the law".
Agents were regularly "babysat" while being questioned about serious crimes by their Special Branch handlers who ensured they did not incriminate themselves. Interview notes were falsified and legitimate investigations were blocked by Special Branch to protect Haddock and other agents.
In relation to the McCord murder, such actions and the refusal to gather evidence "significantly reduced the possibility of anyone ever being prosecuted for the crime". Officers did not seize the suspect's clothing for forensic examination and destroyed exhibits including a car used in the attack.
Special Branch and an RUC deputy assistant chief constable deliberately withheld Haddock's involvement in the McCord killing from files forwarded to the Director of Public Prosecutions.
In 1993, despite having previously admitted murdering Sharon McKenna, Haddock was released after questioning without charge and given £500 by Special Branch to go on holiday.
Haddock also admitted his role in the murder of Catholic Sean McParland in 1994 and identified another Special Branch agent as the gunman but neither agent was charged with the murder.
A few months later Special Branch allowed Haddock to shave while in custody after eyewitnesses described the killer of Catholic workmen Gary Convie and Eamon Fox as having a "goatee" beard. Haddock fitted the description but was allowed to shave. An ID parade was never held and Haddock walked free.
A month later Haddock and another Special Branch agent shot dead Catholic taxi driver Gerard Brady. Neither were ever charged.
Haddock has also been linked to the killing of Catholic Peter McTasney in 1991, the shooting of UVF man Thomas Sheppard in 1996, the beating to death of Protestant John Harbinson in 1997 and the shooting of loyalist Thomas English in 2000.
The investigation, prompted by Raymond McCord's father also named Raymond, focused on the activities of one gang- the Mount Vernon UVF, operating in a specific area, North Belfast, at a specific period, between 1991 to 2003 and their Special Branch handlers.
The investigation was also restricted in a number of different ways. Most significantly, the Ombudsman can only investigate the actions of police officers, the role of their political masters in MI5 and British ministers cannot be considered under her remit.
In sharp contrast to the tens of thousands of pounds paid out to McCord's killer, British ministers refused to allocate sufficient funds deemed necessary by O'Loan's team to investigate the killing. The investigation was further hampered by wide-scale refusal of former and serving officers to co-operate.
According to the Ombudsman, officers questioned during the investigation provided evasive, contradictory, farcical and untrue answers and delayed requests for information for up to two and a half years. Others simple refused to be interviewed.
Two retired assistant chief constables, seven detective chief superintendents and two detective superintendents were among 40 officers who refused to be interviewed by O'Loan's team.
"It would be easy to blame junior officers, and indeed they are not blameless, however they could not have operated without the knowledge and support at the highest levels of the RUC and PSNI," said O'Loan.
"The most serious failings are at chief officer level particularly those chief officers who were responsible for Special Branch," said O'Loan.
O'Loan's investigation, although compelling, isn't the first to expose official collusion with unionist death squads. There's a long list of fore runners, from Stevens to Cory to Barron.
Republicans have been writing about collusion for over two decades drawing from ample evidence that has been in the public domain for many years. But something noticeably different happened this week. The ground under the dominant discourse began to tremble. As if compelled by a distant eruption, established paradigms were beginning to shift, and not just within prevailing notions around collusion, but also about the nature of British rule itself and its relationship with unionism.
In an article written in 2003 An Phoblacht pointed out that the British justified collusion by promoting the notion that they were 'taking the war to the IRA' but in fact "once the machinery of murder was up and running no one was safe".
"They killed politicians, civil rights activists, election workers, defence lawyers and Catholic civilians. They killed to cover their agents' tracks. They killed agents who had outlived their usefulness and loyalists who knew too much. And they sacrificed their own soldiers and members of the RUC to retain their agents' cover."
What was exposed this week showed the truth of those words. No one was safe – republican, nationalist, unionist, civilian or combatant, Catholic or Protestant.
The Belfast Newsletter, traditionally an ardent supporter of the RUC, sensed the shift. Tuesday's edition ran a full front-page photograph of state sponsored killer Mark Haddock with the banner headline "Who Knew?" The message was clear if Special Branch are going down, their political masters would go down as well.
"Who at the top knew?" asked the Newsletter.  "The scale of collusion unearthed by Mrs O'Loan's team has also prompted questions as to whether or not the practice was sanctioned at the highest levels of power, here and in Westminster."
In the wake of the report the traditional British line espoused this week by the unionist peer and former officer in the UDR Ken Maginis that collusion is about "saving lives" was exposed as utter nonsense.
"It's time for a paradigm shift," wrote British journalist Beatrix Campbell in the Manchester Guardian. "It is time for Britain to be brave and tell the truth about itself. It must narrate a new story about that 30-year conflict."
"By enlisting the Protestant militias as auxiliaries while presenting itself as a neutral arbitrator, Britain left itself vulnerable to exposure. It has been exposed not as a peacemaker but as a perpetrator, spreading terror and spilling blood, as the most powerful presence amongst the warlords."
"That is the narrative we need to contemplate before we can consign collusion to the past," wrote Campbell.
Reacting to the report Raymond McCord Senior said: "We used to think allegations of collusion were republican propaganda but it was the truth. It did not matter to Special Branch whether the murder victim was a Protestant or Catholic. It made no difference to them. They had their own agenda.
"I want to see a full independent public inquiry with judges brought in from abroad. Police officers were covering up murders. I want Tony Blair and the Attorney General to sit in front of my family and tell me why these police officers are not being charged.
"This document shows that collusion is taking place at a very high level. I know unionist politicians are frightened of the word collusion. But unionist politicians knew this was going on and are living in denial. They have accused O'Loan of being involved in a 'witch hunt of good men' but these so called good men were covering up and paying people to murder."
Sharon McKenna's brother, Paul said: "After Sharon's murder I was hoping someone would be arrested, charged and jailed. That never happened. It never came about. Now I know why. The families have been let down big time. The police who were involved are as guilty as the people who carried out the murder."
Mark Thompson of Relatives for Justice said: "The Ombudsman confirmed that Special Branch were given immunity from procedures put in place to govern the handling of informants. That order could only have come from the highest office. Ronnie Flanagan should be stripped of his knighthood and his post as HMIC."
Taoiseach Bertie Ahern said: "Successive Irish governments raised serious concerns about collusion. This report demonstrates that these concerns were well founded. It is essential that justice be done and be seen to be done in these cases. In the face of such a damning report follow up action and reassurance is essential."
Reacting for the British Government, its Secretary of State in the North Peter Hain in the North said: "The serious failings that have been exposed within parts of the RUC Special Branch at the time of the murder of Raymond McCord Jnr and for a period thereafter cannot be justified and no one should attempt to justify them. They should never have happened. Those involved – a small number of officers – failed in their fundamental duty to protect the community. New robust systems are in place to ensure that the failures of the past will not and cannot be repeated. "
Unionist political reaction varied from a state of denial to justification of sectarian murder. DUP MLA for North Belfast Nigel Dodds said: "It is absolutely nauseating to listen to Sinn Féin/IRA representatives such as Martin McGuinness on a day such as this", while his colleague Ian Paisley Jnr dismissed the report as "short on facts but long on supposition".
UUP Peer Ken Maginnis claimed: "Collusion had to do with saving lives. It had to do with keeping Northern Ireland from falling over the brink of a civil war. How on earth can I give a degree of credibility to such nonsense based on hindsight, based on prejudice and based on an alternative agenda?"
Meanwhile, writing in the Newsletter, columnist and DUP member Gavin Robinson attempted to justify the collusion policy. "An onslaught of republican violence took its toll and, at times, proved successful. Assassinations became a regrettable solution. The only problem was that loyalists weren't very good at them. So, in some smoke filled rooms, a strategic decision was taken to aid their efforts in the wider public interest."
The victims
• Peter McTasney
The 25 year old Catholic man was shot dead in his Bawnmore home in February 1991. Mark Haddock was arrested and questioned about the killing. Most of the interviews were carried out by his special branch handlers who did not disclose his involvement in the killing to the then DPP.
• Sharon McKenna
Within weeks of being arrested and questioned about the killing of the 27 year old Catholic woman Haddock's monthly payment from special branch was increased from £100 per month to £160.
• Sean McParland
Haddock admitted to being involved in the killing of the 55 year old coal merchant who was shot dead at his daughter's home in Skegoniel, North Belfast on 17 February 1994.
• Gary Convie and Eamon Fox
Both men were shot dead on a North Belfast building site in May 1994. The gunman who carried out the shooting was said by witnesses to have a goatee beard. When he was arrested for questioning about the killings Haddock, who wore a goatee beard, was allowed to shave it off while in RUC custody.
• Gerard Brady
The 24 year old taxi driver was found shot dead on the Sunnylands estate in Carrickfergus, outside Belfast, on 17 June 1994. Ballistics linked the weapon used in the killing to Mark Haddock.
• Thomas Sheppard
A friend of Haddock the Coleraine man was shot dead by the UVF in Ballymena in 1996, accusing him of being an informer. Information links Haddock to the killing.
• William Harbinson
The Shankill Road man was handcuffed and beaten to death in May 1997. Special Branch had, "high grade intelligence", about the killers -– including Haddock – but they didn't pass this on to investigating detectives.
• Raymond McCord junior
Information obtained by the RUC, and, "corroborated from other sources", indicates that Haddock ordered the killing of the 22 year old while in prison. A man on parole from prison carried out the killing. The suspect's clothes were not seized for forensic examination and a car used by the killers was destroyed.
• Tommy English
The high ranking UDA man was shot dead during a feud between the UDA and UVF in October 2,000. Information links Haddock to the killing.
Haddock was also linked to another five killings. The names of these victims were not released. He was also linked to 10 attempted killings between 1989 and 2,000.
The Ombudsman investigated Haddock's involvement in two bomb attacks in the 26 Counties, one in Dublin and a second on the Sinn Féin office in Monaghan.
The Police Ombudsman also obtained 17 reports of Haddock's involvement in drug dealing in North Belfast and Larne.