18 January 2007 Edition
Housing: Dealing with vacant properties would have big impact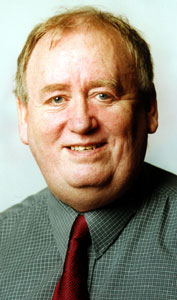 Affordable and social housing must be prioritised – McCann
Sinn Féin Housing Spokesperson, West Belfast MLA Fra McCann has said that affordable and social housing must be a priority for any incoming Executive and that dealing with the problem of vacant properties would have a significant impact in the provision of both affordable and social housing and in eradicating homelessness.
Speaking to a Sinn Féin amendment to a motion on affordable housing in the
Transitional Assembly Monday, 15 January McCann said the fact that 98.3% of all housing starts were for the private sector in the quarter from April to June 2006 was a major reason for the crisis in the provision of social housing.
"We are not building enough new homes in the social sector. We need an incoming Executive to make affordable and social housing a priority. We need to ensure that a future housing minister will promote sustainable communities and ensure that every one has the opportunity of a house at a price they can afford, in a place where they want to live and work", McCann said.
Housing as a right
The West Belfast MLA said housing needed to be recognised as a right.
"We need to be proactive in our approach to affordable and social housing,we have to ensure that those most in need in our society have a roof over their heads, and those who wish to buy their home are able to do so at an affordable price, and we need to ensure that speculators are not in a position to freeze young first time buyers out of the market which is the norm at present", he said.
"We wait to see the impact of the latest increase in the cost of borrowing.
Yet, if we look at statistics – in 2001/2002 there were 1,540 actions for mortgage repossessions, which was an 11.5% decrease on the previous year, compare this with 2005/2006 where there were 2,614 actions which was an 19.5% increase on the previous year – this shows the extent of the problem.
"It is imperative that this Assembly is up and running. We owe it to the 30,000 people waiting on social housing, we owe it to the thousands waiting on an affordable home.
"Today, as we speak, out of a total housing stock of 702,000 in the North of Ireland, 36,280 are vacant dwellings – all in various states of repair and many left empty as investments to accumulate profit. One in 20 homes empty.
"Without building a single  house for the affordable or social sector – if we tackled this problem we could go a long way to providing homes for thousands of people and thousands of families – to eradicate homelessness", McCann said.