18 January 2007 Edition
Ombudsman to investigate Adams shooting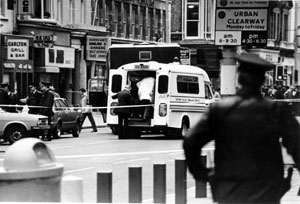 Sinn Féin President Gerry Adams has revealed that the Police Ombudsman's office has informed him that an 'initial investigating officer' has been appointed to investigate information relating to an assassination attempt on his life in 1984 and the role played by the RUC Special Branch.
"Last month a report in the Andersonstown News linked the RUC Special Branch to a gun attack in March 1984 in which I was shot several times and three others in the car with me were wounded", Adams said on Tuesday.
"The Andersonstown News report said that a former retired RUC detective had confirmed that a UDA informant, who was a double agent working for Special Branch, told his handlers a week before the attack that it was to take place.
"This is not the first time that a source from within the British system has confirmed that the UDA gang who carried out the attack were colluding with the Special Branch and British Military Intelligence", he said.
"In his book Big Boy's Rules BBC reporter Mark Urban confirmed some years ago that a British Military Intelligence source confirmed to him that a UDA agent had 'tipped them off about a plan to assassinate' me. The Ombudsman's Office has now agreed to carry out an investigation", the Sinn Féin President said.