18 January 2007 Edition
Majority of the UVF leadership were Special Branch agents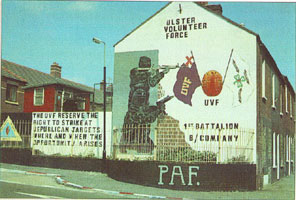 BY LAURA FRIEL
The majority of the UVF's senior leadership were Special Branch agents. That's the conclusion of a report by Ombudsman Nuala O Loan emerging out of an investigation into RUC collusion with the loyalist killers of Raymond McCord Jr. due to be released next week.
The British Attorney General has been sent files on serving and retired RUC/PSNI officers by the Ombudsman and is considering prosecutions against seven officers for alleged collusion with unionist paramilitaries. The decision follows an extensive inquiry into involvement of handlers and their agents in a number of murders in the 1990's.
The investigation, known as Operation Ballast, was undertaken by the Ombudsman's office at the request of one victim's father who suspected the UVF members known to be involved in his son's murder were being protected because they were agents working for the RUC.
The body of the 22-year-old Protestant from North Belfast was found dumped in Ballyduff quarry in November 1997. He sustained severe head injuries while being beaten to death by a UVF gang in a dispute over drugs. Since the death of his son Raymond McCord Sr. has tirelessly campaigned for truth and justice. Last year he successfully petitioned the Ombudsman to take up the case.
The report is still set to be published next Monday despite attempts by lawyers acting for more than 20 RUC/PSNI officers to have it stopped. So far the ombudsman's senior investigating officer, Chris Mehaffey has refused to allow, for those referred to in the report, advanced notification of its contents.
The officers investigated will not be identified by name but referred to by letters. However they have been identified in fuller copies forwarded to the British Secretary of State Peter Hain and PSNI Chief Constable Hugh Orde.
Normally prosecution files are referred directly to the Public Prosecution Service. The fact that they have been referred to the British Attorney General underscores the serious nature of the allegations and its implications for British "national and security" issues.
Clearly the British fear that prosecuted officers could name and shame senior government officials and ministers implicated in the collusion conspiracy. The Retired Police Officers Association has already indicated that those prosecuted would break the Official Secrets Act in order to defend themselves.
Several of those involved in the murder of Raymond McCord Jr. have already been identified as Special Branch agents. The information emerged by a former RUC detective Johnston Brown, who claimed Special Branch officers refused to arrest an agent even after it became clear he had carried out a number of murders.
The agent's victims included Sharon McKenna a 27-year-old Catholic taxi driver shot dead by two UVF gunmen when she visited a Protestant family friend on the Shore Road.
Commenting on the pending report Raymond McCord Sr called for the names of all those involved in his son's murder to be made public.
"About 28 people, mostly unionists, have been murdered since the UVF ceasefire and there hasn't been a single conviction. I'm therefore left with no option but to believe that there was collusion between the police and my son's killers because they were informants. I think it would be best if the names of those involved in all  these killings, not just my son's were made public," said McCord.