11 January 2007 Edition
Affordable housing unaffordable for average earners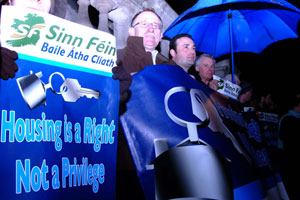 Sinn Féin Housing spokesperson Seán Crowe TD has questioned how so-called 'affordable' housing schemes can continue to function when the price of such homes are out of reach of people on average incomes.
Crowe was speaking in advance of a protest organised by Sinn Féin outside City Hall last Monday evening. Activists called for a reversal of the changes the Planning & Development Act allowing developers to buy their way out of their obligation social and affordable housing.
The Dublin South-West TD said: "The whole concept of affordable housing is essentially to provide homes to people at reduced prices, catering to those people left behind by an exorbitantly priced housing market. But under the current system in this state, 'affordable homes' is a complete misnomer in that they are only affordable to less than half of those people who have applied.
"There is a major shortage of social and affordable housing in both urban and rural communities. People on the average wage, the very people who should be availing of the affordable housing scheme, are unable to get a mortgage that allows them to get on the property ladder.
"In 2002 the government capitulated to pressure from property developers to allow them to buy their way out of commitment to provide at least 20 per cent social and affordable housing in any new development."