11 January 2007 Edition
Harney must provide beds to address A&E overcrowding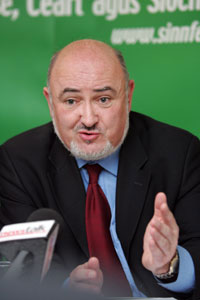 Commenting last week on a leaked report from the Accident and Emergency Task Force established by Health Minister Mary Harney, Sinn Féin Dáil leader and spokesperson on Health Caoimhghín Ó Caoláin TD said Harney must produce a credible plan to provide the additional beds necessary to address A&E overcrowding.
Speaking on Thursday, 4 January Ó Caoláin said: "Last March Health Minister Harney described the situation in our A&E units as a national emergency and established this Task Force. Aspects of the report have now been leaked and include a target of six hours for the length of time it takes patients to get through A&E departments. The Report is due to be published shortly but it will be a futile exercise unless Minister Harney accompanies its publication with a credible and comprehensive plan to provide the additional hospital beds that are essential to address the A&E crisis.
"Seriously ill patients are spending many hours and sometimes days in A&E because sufficient beds are not available to admit them to hospital wards. The Irish Nurses Organisation recorded 260 people on trolleys and chairs in A&E units on Wednesday. The Government in 2001 set a target of 3,000 additional acute hospital beds. It has failed to make any real progress towards that target despite our growing and ageing population.
"The Health Service Executive Chief Brendan Drumm claims that this number of beds is not required.
"Minister Harney must sort out this contradiction at the heart of Government policy. The only proposal she has come up with to provide the extra beds needed is her shambolic scheme to allocate land at public hospital sites to private hospital developers. That plan should be scrapped and public money should be used to provide beds in public hospitals.
"The Minister should also use the publication of the Task Force report to halt the policy of over-centralisation which has seen the closure of A&E in smaller hospitals, thus putting further pressure on overcrowded units in the larger centres. Local hospitals must be given their rightful place at the heart of our health system."