11 January 2007 Edition
Suicide - Urgent need for all-Ireland awareness campaign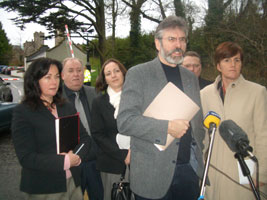 A Sinn Féin delegation led by Party President Gerry Adams met British Health Minister Paul Goggins last Monday to review progress on the suicide prevention strategy and to discuss the British government's financial commitments on the issue.
Adams urged the Minister to "speedily extend the telephone hotline to all areas and ensure that it is properly funded." And he repeated his call for mobile phone companies to provide a free phone service for anyone phoning the helpline from their mobile phones.
"I also raised with the Minister the absence of any visible action on an all-Ireland basis, despite our constant demand that this be put in place. It doesn't make sense that there is no joined up approach between the two Health departments. There is an urgent need for a suicide awareness campaign on an all-Ireland basis", Adams said.
"The Minister told us that he putting a proposal on this to the Suicide Strategy Implementation Group on 17 January. I intend seeking an urgent meeting with the Irish government to discuss this", he said.