11 January 2007 Edition
Peace Process: DUP stance a "serious development"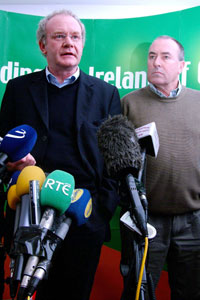 Ard Chomhairle to meet amid "deep concern" at DUP position
Speaking last Tuesday following a meeting of the Sinn Féin Officer Board, the party's Chief Negotiator Martin McGuinness expressed "deep concern" at Ian Paisley's comments of the previous day rejecting out of hand Tony Blair's assessment of the DUP's position.
"The party Officer Board met in Dublin today to assess the current situation. There was deep concern expressed at Ian Paisley's comments yesterday rejecting out of hand Tony Blair's assessment of the DUP's position", McGuinness said
He went on: "The DUP clearly need to be given some time to reflect because if they are now ruling out power sharing on 26 March and the transfer of powers on policing and justice by May 2008 this is a serious development.
"The Ard Chomhairle motion is predicated upon a commitment by the leadership of the DUP to power sharing in the St. Andrews timeframe.
"Sinn Féin will remain in contact with the governments in the coming days to try and move beyond the current difficulties."
The Ard Chomhairle will meet in Dublin on Saturday.
Responding on Thursday 4 January to a statement from British Prime Minister Tony Blair which said his understanding was that the DUP would accept the devolution of policing powers by May 2008,  and that Sinn Féin would support new policing structures, Sinn Féin President Gerry Adams MP said: "Last Friday the Sinn Féin Ard Chomhairle backed a proposal to convene a special Ard Fheis on policing. We set out in clear and unequivocal terms the substance of the motion which we would put to the Ard Fheis and our intention to hold this before the end of January. We also set a very clear course forward and stated very plainly that we would be going to the party to ask it to support this motion.
"This is a hugely significant step.
"British Prime Minister Tony Blair's statement this morning accurately summarises the core of our Ard Fheis motion on policing.
"Of course the difficulties which have arisen over recent days are not about Sinn Féin's commitments. We set these out very clearly last Friday. The difficulties, which led to intense negotiations between Sinn Féin and the British government in recent days, were because the DUP did not respond positively.
"Republicans want to see a new beginning to policing. We want to move forward. We want our special Ard Fheis to go ahead. But this cannot be a one way street. The DUP also have commitments and responsibilities. We now await their response to Tony Blair's statement."
Paisley denial
But by Monday DUP leader Ian Paisley had strongly denied agreeing to the devolution of policing powers from London to Stormont by May 2008.
In a newspaper article in the Irish Times on the same day, Tony Blair said it was his understanding that Paisley accepted the timeframe during recent talks.
Paisley demanded that Blair give details about when and to whom such assurances were given, saying he would never agree to any timeframe.
On Friday 5 January Sinn Féin Chief Negotiator Martin McGuinness MP said that it was obvious that Paisley had not agreed with the assessment of the DUP's position set out by Tony Blair.
"Over the last number of days we engaged in a difficult set of discussions with British Prime Minister Tony Blair. This followed the failure of the DUP to respond positively to the Sinn Féin Ard Chomhairle's move on policing, which the British described as 'seismic'.
"It is obvious that Ian Paisley has not agreed with the assessment of the DUP's position set out by British Prime Minister Tony Blair yesterday", McGuinness said.
He continued: "While everyone wants the process to continue to move forward it is pointless pretending the DUP has agreed to share power by 26 March or to the timetable for the transfer of powers on policing by May 2008 when they clearly have not.
"Nationalists and republicans will not accept political, legal or policing institutions which are not representative and democratically and legally accountable.
"The DUP position is not acceptable to nationalists and republicans, many of whom are already sceptical about the DUP's commitment to sharing power with Sinn Féin following the March elections.
"The Sinn Féin leadership will continue to work to see these issues resolved in the coming days. These are not insurmountable but others including the two governments but in particular the DUP have to play their full part."
Cautious welcome for Blair statement
Responding to questions in respect of Tony Blair's Irish Times  article Gerry Adams said: "I cautiously welcome what Tony Blair has said. He is giving the DUP yet another chance. I think they need the little bit of space required to respond in a positive way to what has been outlined. There big issues to be faced here. Sinn Féin comes at this positively. All these matters have to be sorted out and resolved."
Asked what was needed from the DUP Adams said: "Martin McGuinness put it well yesterday. The DUP leader Ian Paisley welcomed the remarks by the British Prime Minister last week. He needs to welcome and agree with what Mr. Blair said.
"There are so many discordant voices coming out of the DUP at this time and republicans are listening to the very loud and negative and some times quite hysterical voices from that party.
"So the Party Leader has to speak. This isn't about putting it up to Ian Paisley or to any of the DUP. There is a collective process involved here and let's all try to do our best to resolve all of these matters.
"This means also that the Sinn Féin leadership has to make a judgement about whether what we do is sustainable and capable of getting the support of other republicans. That's the judgement we have to make. There's no doubt about the republican position. It's very clear. I set out our position after the Ard Chomhairle meeting ten days ago. The difficulties since then have not been caused by any inconsistency or ambiguity on the part of Sinn Féin.
"There are clearly difficulties on the unionist side. We need to look at that in a benign way even though many republicans are very angry at the behaviour and the noises coming out of the DUP.
"Let's do our best and let's look ahead as we try to plot out the next few days."