11 January 2007 Edition
David Ervine dies suddenly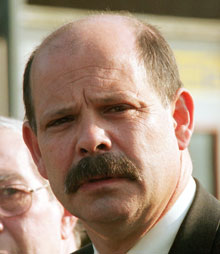 Sinn Féin President Gerry Adams extended condolences to the family of PUP leader David Ervine, who died suddenly in Belfast this week.
Ervine was initially reported to have suffered two massive heart attacks and a stroke after attending a football match between Glentoran FC and Armagh City at the Oval in Belfast last Saturday, 6 January. It was later confirmed that he had had one heart attack, a stroke and a brain haemorrhage. He was taken to the Ulster Hospital in Dundonald and was later admitted to the Royal Victoria Hospital in Belfast. He died on Monday.
Speaking that afternoon, Gerry Adams said: "David Ervine played a key role within loyalism throughout the development of the peace process. He made a valuable and important contribution to moving our society away from conflict.
"I was shocked yesterday evening when I heard the news that David Ervine had been taken ill.
"On behalf of Sinn Féin I would wish to extend my condolences to his family, friends and party colleagues at this difficult time."
David Ervine was raised in unionist, working-class east Belfast. While still a teenager he joined the unionist paramilitary Ulster Volunteer Force (UVF), which has been responsible for the sectarian murder of hundreds of Catholics since the late 1960s.
Ervine was imprisoned in Long Kesh in 1974 after being arrested driving a car bomb to its presumed target: a pub frequented by Catholic civilians.
He was released from prison in 1980 and for several years owned a newsagent's in Belfast before taking up full-time politics. He stood in local council elections as a Progressive Unionist Party (PUP) candidate in 1985. The PUP is closely linked to the UVF.
Ervine was elected to the Northern Ireland Assembly in 1998 to represent Belfast East and was re-elected in 2003. He was also a member of Belfast City Council from 1997. Ervine was a supporter of the Good Friday Agreement.
In May 2006 it was announced that when the Six County Assembly reconvened, Ervine would join the Ulster Unionist assembly group, while remaining leader of the PUP. Under the d'Hondt formula, this would have entitled the Ulster Unionists to an additional place on the Executive.
On 11 September 2006, Assembly Speaker Eileen Bell announced that the Ulster Unionist Party assembly group did not qualify as a political party and that the UUP/PUP arrangement was invalid.
Speaking in Dublin on Tuesday, Sinn Féin's Chief Negotiator Martin McGuinness said of Ervine: "I think he will be a huge loss to political life in Ireland. We think he made an immense contribution, coming from the community that he came from to be part of the negotiations to the Good Friday Agreement.
"We always felt very privileged and honoured to work with him in pursuit of the implementation of the Agreement because we knew we had the overwhelming support of the people of this island. We are all very conscious of his very many contributions."