11 January 2007 Edition
Policing: Reversal of proposal to integrate PSNI and MI5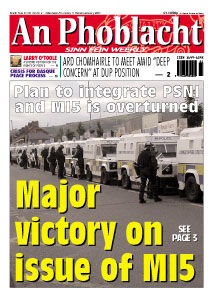 Sinn Féin secures major victory on issue of MI5
British Prime Minister Tony Blair announced on Wednesday that the MI5 spy agency will have no role in civic policing structures in the Six Counties.
The pledge comes after major concern within the nationalist community at proposals contained in documents released after political negotiations at St Andrews in Scotland last year which sought to embed  MI5 in policing structures in the North.
In a statement to the British House of Commons, Blair said the PSNI would be completely separated from the undercover intelligence agency and that no PSNI officers would be seconded to or under the control of MI5.
He also said arrangements would be made to ensure the Police Ombudsman in the Six Counties had access to any MI5 intelligence information it needs and reviews of the agency's work would be carried out every year.
The dramatic development is the result of intense negotiations over the Christmas period between the British Government and Sinn Féin.
Speaking to An Phoblacht on Wednesday following Blair's statement to the House of Commons, Sinn Féin Spokesperson on Policing and Justice Gerry Kelly MLA said that intense and detailed negotiations between Sinn Féin and the British Government in recent weeks had secured the reversal of the British Government's proposal to integrate the PSNI and MI5.
"Our position is that there is nowhere that MI5 or any other British security service should be in Ireland. They simply should go and we will continue to the point of getting them out of Ireland. What this is, is a substantial move forward in removing them entirely from civic policing which we have negotiated over long and hard to try and get a new beginning to policing in the North and through that and through the interdependent institutions an all-Ireland approach to all of this."
St Andrews 'Annex E' reversed
"People might remember that in the St Andrews documents there was an Annex E published on British security services. We immediately rejected it. The SDLP claimed it as a victory. That document was actually talking about integrating MI5 into the PSNI. Clearly that was a huge step backwards. What this document does is to reverse that. It takes MI5 out of civic policing. It makes them entirely separate bodies.
"It is a significant step forward in terms of trying to achieve civic policing and do away with, not just the interference of MI5 - remember MI5 were involved in a 'force within a force', they run loyalist death squads, they have been involved directly and indirectly in deaths throughout Ireland which include incidents in Armagh, Tyrone, Dublin and Monaghan. So it was very necessary to make sure that, in our struggle to have a policing service which is representative of the people and accountable to the people, that that is exactly what we can end up getting. That meant MI5 had to be out of policing - for the police to work for the people and not for the British MI5."
On the negotiations which led to the breakthrough Kelly said: "They were intense. We wanted to make it perfectly clear that there could be no ambiguity on this issue."
Asked what, in straightforward terms the practical effect of Blair's announcement meant for the relationship between the PSNI and MI5, Kelly said: "The new statement by the British government today abandons their proposals to integrate MI5 into policing structures. This means that there will now be:
No secondment of PSNI members to MI5
No PSNI members will be under the control of MI5
MI5 will have no role in civic policing
All PSNI members accountable to the Policing Board and other Patten mechanisms and upon transfer to the Justice Ministers.
All party representation on the Policing Board special purposes committee
The Police Ombudsman will have statutory access to all information held by PSNI and statutory powers to hold PSNI members to account. Arrangements will be made that she will have access to information held by MI5 where this is necessary to the discharge of her duties.
Annual Review role in the north for Lord Carlisle in consultation with the First and deputy First Ministers and future Justice Ministers.
"Sinn Féin is determined to achieve a new beginning to policing. One of our key demands in these negotiations was to stop MI5 having any role in civic policing here. Today's proposals will go a long way towards achieving that objective and go far beyond the proposals agreed by the SDLP at St. Andrews."
SDLP wrong and dishonest
Asked what role if any the Irish Government or the SDLP played in removing the British proposals for MI5 involvement in policing, Kelly said:
 "What you need to do is take the statement made today and compare it with what became known as Annex E which came out of St Andrews. You will see that it is a black and white situation. One is the opposite of the other. In St Andrews, which the SDLP claimed was an advance, there was the possibility of re-instituting a 'force within a force' and we know what that has caused in the past. This one removes it entirely out of it.
"So the SDLP role is quite clear - they argued for Annex E, got it and they are entirely wrong on that. They are being quite dishonest in their portrayal of all of this. They are talking about accountability - there is no accountability mechanisms in Annex E to hold MI5 to account.
"As far as the Irish Government and the Taoiseach is concerned, this was published at the time of the joint statement from the two governments and I have to say it should never have got past the Taoiseach. We had to spend an awful lot of energy after that trying to reverse the situation. So their role, as co-authors of the St Andrews proposals, – clearly it should never have got past the Taoiseach."
Plastic bullets
Another feature of policing in the North which has caused much misery and death over the years is plastic bullets. Their use against unarmed civilians has been deeply resented by the nationalist community. Asked about plastic bullets Kelly said: "We have dealt with the issue of plastic bullets in a lot of our meetings and we are expecting some developments on plastic bullets very shortly."
Asked whether Tony Blair's statement made it easier for Sinn Féin to deal with the issue of party support for policing structures in the North Kelly said: "This issue of MI5 had to be dealt with no matter what. We could not have a situation where it was not sorted out after the bombshell of Annex E after St Andrews. So that's what we were about. The Ard Chomhairle has met and it is to meet again on Saturday and they will be reviewing all of these things as they go."