4 January 2007 Edition
SDLP played no role in negotiations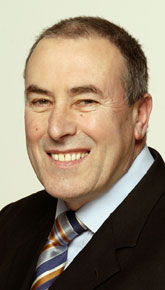 Sinn Féin's Mitchel McLaughlin has said the SDLP played no part in recent negotiations with the British government on crucial issues, including policing.
"Instead they sat on the sidelines. As we sought to move the British government on key issues including the transfer of powers, plastic bullets and MI5 the SDLP engaged in petty party politicking", he said.
McLaughlin pointed out that while Sinn Féin secured full delivery on the new beginning to policing promised in the Good Friday Agreement, the SDLP had said there was no point trying to get rid of the RUC, they accepted MI5, sat on a policing board which purchased plastic bullets, accepted British Army involvement in crowd control situations, the very circumstances that led to Bloody Sunday.
"They claimed coming out of St Andrews that they had negotiated Annex E which would give MI5 a central role in policing in the North. Sinn Féin rejected this and put this issue at the centre of the recent Christmas negotiation", he said.
He added that while Sinn Féin spent Christmas negotiating change, the SDLP spent their time preparing attacks on Sinn Féin and "reducing issues of key importance to nationalists to the level of petty politicking."