4 January 2007 Edition
Monaghan remembers Brookeborough Martyrs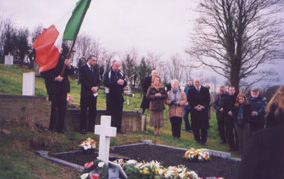 A larger than usual turnout, some 200 people, gathered at Latlurcan cemetery in Monaghan for 50th Anniversary Commemoration of the deaths of Fergal O'Hanlon, a native of Monaghan town, and his Limerick comrade Seán Sabahat, on New Year's Day 1957.
Proceedings at Fergal O' Hanlon's final resting place were chaired by Barry Deeney, Chairperson of Monaghan Sinn Féin. The main address was delivered by Cavan/Monaghan TD caoimhghín Ó Caoláin, himself a cousin of Fergal O'Hanlon.
During the course of his address Ó Caoláin said that Fergal O'Hanlon did all the things that any young man would do but more.
"A doer and a thinker, Fergal was a dedicated republican activist, a soldier in the ranks of the Republican Army.  What he sought to achieve and how he set about that task had nothing to do with eulogies, with commemorative ballads or gatherings such as this.  He would be here with us surely if another was to be remembered.  But his courage and sacrifice was about the achievement of Irish reunification and an end to British rule in Ireland", said Ó Caoláin.
He added that the only fitting memorial to O'Hanlon's memory was a 32 county sovereign republic.
Referring to the debate on policing in the six counties the Cavan/Monaghan TD said: "Whatever stance we each individually take, whatever decision is ultimately taken, let us each commit today to accept the outcome, to remain united and strong as we move ever closer to the achievement of our national and republican objectives.  Only our enemies will gain by any fracture in our ranks or weakening of our cohesion.  We will face this challenge and come through it.  Let us go forward confident in ourselves and in our purpose."
 • A section of the crowd who attended the Wreath Laying Ceremony at the grave of Vol. Fergal O'Hanlon in Latlurcan Cemetery on New Year's Day.