14 December 2006 Edition
Nollaig 2006 - Republican reminiscences of a Christmas in Portlaoise Jail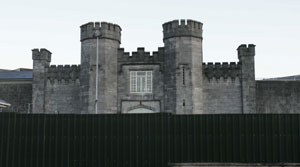 Christmas in the Big House
BY
MATT TREACY
Christmas Eve 1990. I had just been interned by The Man on foot of my progressive views and was being marched through the grey stone corridors of the nether regions of the Big House. Between the Victorian appearance of the screws uniforms and everything else I would not have been surprised had I met 'Skin the Goat' Fitzharris on his way back from breaking rocks in the yard.
As it was, an even more surreal apparition greeted me when we reached E Block. A huge blow up plastic Santa Claus was gently swaying in the draught. It was two o'clock in the morning and the place was quiet as we were led up the steel stairs to our new home on E2.
Some of the other Dubs who had been picked up earlier that year had waited up after   the late news which described how a dangerous 'Active Service Unit' had been nabbed and remanded in custody. The good citizens could sleep soundly in their beds while those who knew us had a right good laugh. We were dangerous alright, not least of all to ourselves.
I heard one or two disembodied voices calling out. "Miley. Mixing Bowl." One of my companions had earned the first nickname from his striking resemblance to the star of Glenroe as he slunk around Dublin under a cap doing deeds for the Republic. I had earned the soubriquet 'Mixing Bowl' not on account of any sinister activities but because I had taken one of my mother's mixing bowls to use for pasting up posters. It had duly been seized by The Man. I should have taken the hint.
The next day we were introduced to the arcane world of Portlaoise. At first it was like being in the middle of an Industrial Revolution steel mill. Noise. Some of it from banging doors and gates and locks but most of it from shouting. You didn't talk in Porto you shouted.
One of my neighbours was Pat 'The Grove' McKenna from Monaghan and he showed us the run of the place before we were taken up to the Cumann Cabrach store that was run by Tommy Eccles to exchange the clothes that the Branch had given us in the Bridewell for trousers and patterned jumpers that made us look like dishevelled Bing Crosbys. In fact Bing Crosby might have sent them over for the '40s men. Still it was better than wearing stuff that was four sizes too big, not to mention the Santy socks that the Branch had given us.
On Christmas Day we were given a traditional turkey dinner but I hadn't much of an appetite and was more interested in why some of the comrades were so deliriously happy. That would be the hooch now, except none of the feckers thought to share any of it with us.
There was the Christmas concert and play which I swore I would never have anything to do with but of course you get sucked into these things. And then there was a series of presentations which most worryingly of all included the handing over of a mounted saddle by one Martin Ferris to Peter 'Porky' Lynch as his reward for being 'Jockey of the Year.'
Myself and Aran exchanged worried glances. So maybe what the Branch had said to us was true after all. That we would become jailhouse punks at the mercy of predatory senior figures. I made a mental note never to shave off my scraggly dyed black beard that had served me as a, not very effective, disguise. Better to look like a character from Deliverance rather than end up like Ned Beatty. And just to stay in character I later took up the five string banjo.
Of course we quickly discovered that 'jockey' was the jail term for someone who made a vocation of tormenting other people with lies, false rumours and so on. A perfect description for both of the above in fact.
Other jockies were more devious and thus relatively unrecognised. Take Jimmy Fox for example. When John Crawley entered and, to his great disappointment, came second in a short story competition for prisoners Jimmy wrote a story which he presented to John claiming that it was the winning entry, allegedly penned by a young Dublin hood. It was a classic. Every paragraph ended with the line "Some difference between me and him what?" Good times, good times.
We had even better times when we were at last initiated into the ritual of hooch making and drinking. All things considered, drinking in prison is probably not a good thing and the O/C and the Staff had a point in exercising a fairly intolerant attitude towards it but it was an integral part of the culture.
Sometimes it did get out of hand like the day when a certain Tyrone man decided that it would be a good idea to have a session one Monday morning the week before Christmas. I was told that I was "more than welcome" but politely declined in favour of a nice long run. It went ahead anyway until early afternoon when a maudlin Monaghan man announced that he was going off to get some rope so that he could hang himself over some woman. One or two there were concerned and tried to stop him but Dr. McPhillips, our resident astrologer, said to leave him go. "He'll not kill himself, he's a Capricorn."
I was lucky enough when I was there in that I didn't have children but I know now how hard it must have been for those who did and for their families outside. For people like myself prison could be a mixture of a monastery or a barracks where you could make the best of things and just get on with the sometimes important, often trivial matters of our strange little world.
For fathers there was the worry and the heart break of children growing up without them. And of Christmases when they laboured lovingly over Simpsons and My Little Pony mirrors as gifts.
For any of you doing the same this Christmas, whatever Big House you are in, good luck and may you get your half sheet.