14 December 2006 Edition
Threats against Sinn Féin leadership are serious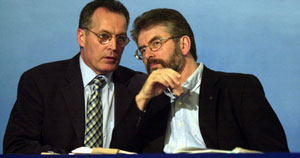 Sinn Féin's Justice and Policing Spokesperson and North Belfast MLA Gerry Kelly said last Friday, 8 December, that he is treating seriously a warning of a threat against him. It was the third incident in recent weeks of a threat against senior Sinn Féin members.
Kelly received the warning from the PSNI which said that so-called 'dissident republicans' were planning to carry out some sort of unspecified attack against him in the near future.
And Sinn Féin President Gerry Adams confirmed this week that he believes there is a current active threat against senior members of the party's leadership.
Some weeks ago the Sinn Féin leadership expressed concern about the coming together of a tiny number of disaffected former IRA people and elements of various micro groups including some members of the INLA.
According to the media a planned assassination targeting the Sinn Féin leader by dissident republicans was abandoned last weekend due to Adams' own security arrangements.
Adams said the party was taking the threats seriously.
"Clearly there are elements who are opposed to Sinn Fein's peace strategy. They have consistently opposed that strategy for a very long time. Policing is an important issue but it is being used as an excuse. It is being exploited and manipulated as part of a wider hostility to Sinn Féin's peace strategy by a small number of individuals," said Adams.
"I understand that there are republicans who are concerned about current political developments and especially discussions around policing. I would urge them not to be manipulated by individuals who are now operating to their own malign agenda and who should know better," said Adams.
"As for Sinn Féin, we will not be deflected from what we think is the right thing to do," said Adams.