14 December 2006 Edition
Finglas shootings: McDowell a failure and should resign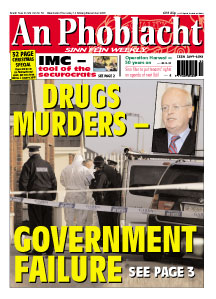 Drugs murders — state has no strategy
Twenty six County Justice Minister Michael McDowell is a failure and the government has no strategy to combat the threat posed by armed criminal gangs who are operating virtually with impunity, according to Sinn Féin Justice Spokesperson Aengus Ó Snodaigh TD.
Ó Snodaigh was speaking to An Phoblacht on Wednesday, a day after double murder in Finglas on Dublin's northside.
The community of Finglas remains in shock and the city braced for an escalation of drugs-related violence following the shooting of two men, one of whom is suspected of having been one of the biggest drug dealers in the country.
Martin "Marlo" Hyland was shot dead in Finglas on Tuesday morning. Hyland originally came from Cabra.
Horrified
What has utterly horrified people in Dublin and across the country was the brutal slaying of a 20-year-old plumber's apprentice, Anthony Campbell, who was working at the house where Hyland was staying when the killers arrived.
It appears the killers may have shot the young man because he might have been a potential witness. He was an entirely innocent party. Campbell lived in St Michan's Flats, Greek Street in Dublin's north inner city.
Both men were shot in the head at Hyland's niece's house at Scribblestown Park in Finglas. It appears the killers happened across Campbell unexpectedly in the course of their attack on Hyland. The young apprentice's employer had left him alone working in the house as Hyland lay upstairs in bed. When he returned to the house after collecting supplies he found the apprentice and Hyland both shot dead.
Warned
Hyland had been warned by Gardaí as recently as last Thursday that his life was in danger. It is believed he was involved in a large number of shootings, including murders. He is also alleged to have been a major supplier of cocaine, heroin and cannabis to drugs gangs across the country.
Tuesday's double murder brings to 23 the number of gun murders in the 26 Counties this year, two more than last year's record figure.
The drugs trade, to which most of the killings are linked, is also operating at record levels and is now worth billions of euro annually.
Finglas Sinn Féin Councillor Dessie Ellis said he was appalled at the shootings. Councillor Ellis said he is deeply concerned that these shootings continue in an area that has been prioritised by the Garda's 'operation anvil' which targets armed criminal gangs in the city.
"I am appalled at the shooting dead of the two people in Finglas this morning. It is deeply disturbing that one of the deceased seems to have been an innocent bystander – a young apprentice plumber just doing his day's work. The nature of this murder brings to a new level the callousness of Dublin's criminals.
"It is also deeply concerning that shootings of this nature continue unabated in this area even though it has been prioritised by operation anvil."
Sinn Féin Justice spokesperson Aengus Ó Snodaigh TD has called on the Government, the Minister for Justice and the Gardaí to review, revise and update their approach to drug-related crime. He said this review should address the many questions that arise regarding the murders. Ó Snodaigh went on to send his condolences and those of the Sinn Féin party to the family and friends of Anthony Campbell.
No grasp of situation
"Twelve months ago the Minister for Justice Michael McDowell said that we had witnessed the last sting in the tail of a dying wasp. Clearly the Minister has no grasp of the situation. The twenty-three gun murders in the state this year are evidence that Operations Anvil and Oak are failing communities in this city. The killings in Finglas yesterday highlight the urgent need for the government, the Minister for Justice and the Gardaí to comprehensively review, revise and update its approach to drug-related crime", Ó Snodaigh said.
He went on: "There are many questions that arise regarding the killing of Martin Hyland yesterday and these must be addressed in this comprehensive review.
"How did Hyland become such a successful crime lord for such a sustained period? How did this thug become so powerful and survive so long given the amount of Garda resources apparently devoted to bringing him down? And, when communities mobilised against criminals such as Hyland, why did the Gardaí and government of the day demonise those communities? These are some of the most pertinent questions requiring answers.
"There needs to be an examination of whether drug barons are being protected and allowed to operate in exchange for information.
"The priority focus in the medium to longer term for the Gardaí must be to do whatever it takes to win the support, trust and co-operation of communities. The Minister must take steps to ensure that community policing is duly prioritised.
"I also want to strongly condemn the tragic murder of the innocent bystander Anthony Campbell, a young apprentice plumber going about his work. My deepest condolences and those of the Sinn Féin party go out to his family and friends."
No strategy
Speaking to An Phoblacht on Wednesday, Ó Snodaigh said: "Michael McDowell is a failure. He should resign. He is not taking the problem of drugs-related crime seriously at all. There has never been a proactive strategy to deal with this issue. The Gardaí need to re-instate community confidence by being proactive in their approach to tackling drug-related crime.
"The current breed of armed drug-dealers have no regard for human life. People are afraid to go to the Gardaí with information about them.
"Innocent bystanders are being killed. The murder of Anthony Campbell yesterday is not the first example of this. Donna Cleary, another innocent victim was killed in a shooting in Coolock earlier this year.
"During the foot and mouth scare, the entire resources of the state were deployed to deal with it. Nobody was going to die. But people are dying all the time due to the drugs problem. In recent weeks six people have died due to a batch of 'bad' heroin being sold on the streets of Dublin.
The problem is that the state is not seeing this and treating it as a crisis. Ordinary, innocent people and entire communities are the victims, not just of these ruthless, callous criminals but of a failure of government strategy.