23 November 2006 Edition
Fullerton family meet Taoiseach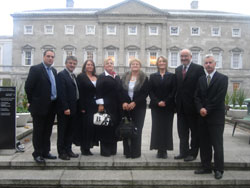 The family of the late Sinn Féin Councillor Eddie Fullerton met Taoiseach Bertie Ahern in Government Buildings on 16 November. Fullerton was murdered in his home in Buncrana, County Donegal in May 1991 and there is evidence that British forces colluded in the murder.
The family delegation included Eddie's widow Dinah who witnessed her husband's death. Eddie's son Albert who had spearheaded the campaign for truth and justice was himself killed in a tragic car accident last March so there was much sadness at his absence at this important milestone in the campaign. It was Albert's determined work that raised the profile of Eddie's case.
Joining Dinah on the delegation were her daughters Amanda, Anita and Marina and sons John and Eddie. Speaking for the family Amanda described the meeting as "positive" and said they pressed for the full independent inquiry that is their key demand. After meeting the Taoiseach the family had a lunch meeting in Leinster House with Sinn Féin TDs Aengus Ó Snodaigh, Arthur Morgan, Caoimhghín Ó Caoláin and Seán Crowe.
Sinn Féin had raised the demand for the Taoiseach to meet the Fullerton family during last month's St Andrew's negotiations. "In raising Eddie's case again at the talks, as I did on many previous occasions, I made clear that it was a meeting that should have happened a long time ago and progress must be made on this case regardless of how the current negotiations proceed," said Caoimhghín Ó Caoláin