23 November 2006 Edition
SF Pre-Budget Submission: Focus on plight of 'working poor'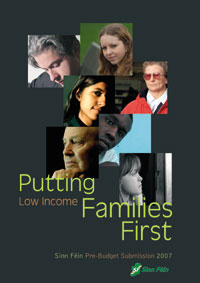 Demanding that resources target low income families
BY CAOILFHIONN Ní DHONNABHÁIN
Sinn Féin's Pre-Budget Submission 2007 entitled 'Putting Low Income Families First' is being launched today (Thursday) by Party President Gerry Adams, Finance spokesperson Caoimhghín Ó Caoláin TD, Party Chair and Dublin Central election candidate Mary Lou McDonald MEP, and Waterford election candidate Councillor David Cullinane.
The submission focuses primarily on the plight of the working poor and those reliant on social assistance. It also puts forward specific proposals to help the less well off cope with rising costs including in the areas of housing, heat and electricity costs and food. These are the people who have least benefited from the economic prosperity of recent years and Sinn Féin is arguing that the government must target the revenue that is available to help low incomes families first.
On Tuesday in Dublin the Vincentian Partnership published a report entitled Minimum Essential Budgets for Six Households. The comprehensive report included the direct input of people currently living on low and inadequate incomes, some of whom spoke at its launch. The evidence gathered by the Vincentian Partnership further backs up the key contentions at the heart of Sinn Féin's pre budget submission -- that present pension and social welfare rates are inadequate and that those in low paid employment face particular difficulties.
Sinn Féin Finance spokesperson Caoimhghín Ó Caoláin TD argued that by addressing income inadequacies of the working poor and those who rely on social protections and by interventions to mitigate the price pressures on both these groups a real step towards the elimination of poverty can be made.
The Working Poor
The submission points out, while little focus is placed on the plight of the working poor, that nearly 14% of households in poverty at present are headed by a person with a job. Proposals to help those in low paid employment include an increase in the minimum wage to €9.30 from 1 January 2007 so that it represents 60% of the projected average industrial wage for 2007. Sinn Féin also proposes that all those on the minimum wage be kept out of the tax net based on the new minimum wage figure and that those on or below the average industrial wage of almost €32,000 be kept within the standard tax band. An increase in the Family Income Supplement of €68 per week as proposed by Combat Poverty is also sought to assist the working poor.
Inadequate Social Protections
Social protections are not adequately assisting people not in work or working in the home to achieve adequate incomes. In the 26 Counties in 2005 social transfers only reduced the risk of poverty by 18%, compared with an average 25% across the EU as a whole. It is clear that the government has to increase spending on social protections if it wants to reduce poverty.
Sinn Féin proposes an increase of €35.50 in the lowest rates of social welfare to bring them to at least 32.5% of the projected average industrial wage for 2007. The lowest rates of social welfare include unemployment benefit, unemployment assistance, disability benefit and disability allowance.
The submission includes a significant section on pension reform. Among the proposals here are a new short term target of 40% of the average industrial wage by 2008 for the non contributory state pension. To achieve this over two budgets, an increase of €34.80 in the 2007 Budget is proposed. The pension reform proposals also call for the phasing out of tax reliefs for private pensions which are costing the state at least €2.7billion a year.
In order to assist those children most in need Sinn Féin proposes standardising the three weekly rates of payment of Child Dependent Allowance at a single figure of €30 per child. The submission argues that Maternity Benefit should be increased to 100% of income plus an increase in the bottom rate to €216.80 and the top rate to €309.70. Sinn Féin calls for the introduction of four weeks paid paternity leave and a cost of disability payment of €40 per week for all people with disabilities.
Rising Costs
The second part of the submission puts forward proposals designed to assist those on low incomes cope with rising costs. Rising energy costs, including increases in ESB, gas and fuel costs, are causing severe hardship to those already suffering from fuel poverty and to those on low incomes who simply do not have the ability to absorb these increased costs.
The submission contains proposals to assist those on low and average income cope with rising housing and energy costs. It also puts forward proposals to tackle food poverty.
Proposals in relation to housing include ring-fencing a minimum of €500 million annually from stamp duties for the construction of additional units of social housing and increasing the maximum mortgage interest relief available for first time buyers on or below the average industrial wage from €800 to €1200 per annum for single people and from €1600 to €2400 per annum for widowed/married people.
In this food-rich state there are people on low incomes in our midst who continue to be under-nourished and who continue to suffer from food poverty. Proposals include the introduction of a weekly free or heavily subsidised 'farmers box' of fruit and vegetables to be delivered to those at risk of suffering from food poverty and increased funding for the school meals programme to enable all schools identified as disadvantaged to provide both nutritional breakfasts and lunch to students five days a week. Sinn Féin is also calling for additional funding to create a proper comprehensive meals-on-wheels service to meet the needs of older people who are unable to prepare their own meals.
Among the innovative proposals in relation to helping low income families cope with rising heat and electricity costs are, in additional to an increase in the fuel allowance to bring it up to €25 per week, the introduction of Low Income Full Cost Residential Renewable Energy Grants for Fuel Allowance recipients. Also proposed is a significant expansion of the Warmer Homes Schemes which would improve the energy efficiency of 10,000 homes annually -- up from the present rate of only 2,000 homes per annum. The submission concludes with a number of proposals for reducing costs in relation to what should be free public services in the areas of health, education and childcare.
Ten Key Proposals
Increase the minimum wage to €9.30 from 1 January 2007 and keep all on this rate out of the tax net.
Keep those on or below the average industrial wage within the standard rate tax band.
An increase of €35.50 in the lowest rates of social welfare.
An increase of €34.80 in the Non-Contributory State Pension.
Increase Child Dependent Allowance to a single weekly figure of €30 for all recipients.
Maternity benefit to be increased to 100% of income plus an increase in the bottom rate to €216.80 and the top rate to €309.70.
Ring-fence a minimum of €500 million from stamp duties for the construction of additional units of social housing.
Increase the maximum Mortgage Interest Relief available for first time buyers on or below the average industrial wage.
Introduce Full Cost Residential Renewable Energy Grants for Fuel Allowance recipients
Extension of the Warmer Homes Scheme