16 November 2006 Edition
Remembering the Past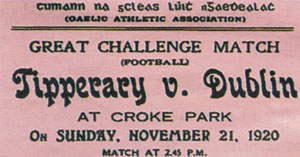 Bloody Sunday 1920
BY SEÁN MacBRÁDAIGH

On Sunday, 21 November 1920, the IRA carried out one of its most successful counter intelligence operations with the execution of British spies in Dublin.
In response to IRA successes in the Tan War, the British Government had formed secret paramilitary death squads to augment the RIC, Black and Tans and Auxies. By late 1920, British Intelligence in Dublin, including what was known as the 'Cairo Gang' – 18 senior British Intelligence officers, had established an extensive network of informers around the city. Such a nest of spies and assassins was an immediate and dangerous threat to IRA personnel and others in Dublin.
Possessing the names and addresses of these British agents, the IRA Intelligence Department under Michael Collins put in train an audacious operation to wipe them out. On 20 November IRA Volunteers drawn from 'the Squad', attached to the Intelligence Department and the Dublin Brigade, were briefed on their targets, which included 20 agents at eight different locations.
Early the next morning the operation was mounted. Most of the executions occurred within a small, middle class area of south inner Dublin, with the exception of one shooting at the Gresham Hotel on O'Connell Street.
Fourteen members of the crown forces were killed and six wounded, including 12 agents and two Auxiliaries. Four of the British casualties were military intelligence officers and another four were Secret Service or MI5 agents. Only one Squad member was captured- Frank Teeling, and it was not very long before he escaped from prison. One IRA Volunteer was slightly wounded.
The operation crippled British intelligence in Ireland and caused other agents and informers, in fear of their lives, to seek sanctuary in Dublin Castle. The British administration was outraged.

Reprisal
British forces, rocked to their foundations at the IRA's action in taking out the eyes and ears of their network in Dublin, were hell bent on revenge.
As news of the operation emerged, around 10,000 spectators were at Croke Park to watch a friendly GAA football match between Dublin and Tipperary.
British forces including soldiers, Auxies and police raided the ground and opened fire with rifles and revolvers. As spectators ran for cover shots were fired into the crowd. Spectators who climbed over the Canal End Wall to escape were fired upon by troops outside the ground. As spectators streamed out of the ground they were met by an armoured car on St James Avenue firing its machine guns.
Two footballers, Michael Hogan and Jim Egan, were shot. Hogan died from his injuries. A young Wexford man who attempted to whisper an Act of Contrition into the dying Hogan's ear was also shot dead.
Fourteen innocent civilians were killed in the massacre at Croke Park. The casualties included Jeannie Boyle, who had gone to the match with her fiancé and was due to be married five days later, and John Scott, who was 14 and so mutilated that it was initially thought that he had been savagely bayoneted. The youngest victims were aged ten and 11.
Not content with this savage attack on an innocent crowd, crown forces then took their vengeance out on three men arrested the previous day and held in Dublin Castle – Dick McKee, Peadar Clancy and Conor Clune. Their bodies were released later, with the statement that they had died 'while trying to escape'.
McKee and Clancy were senior officers in the Dublin IRA, Clune was an uninvolved civilian. The British claimed the men were shot while 'trying to escape'. But this lie was exposed by the state of the men's bodies, covered as they were in deep bayonet wounds, their faces beaten to a pulp.
The savagery of the British reprisals, merely served to increase support for the IRA and further fuelled the struggle for freedom.
The IRA's greatest blow against British intelligence was struck on 21 November 1921, 85 years ago.