16 November 2006 Edition
Collusion Yet another team to 'investigate'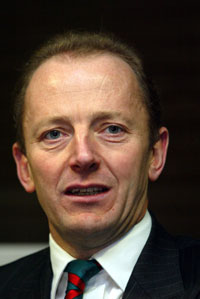 White Team another Whitewash?
BY 
LAURA FRIEL
Running scared in the wake of another damning report highlighting British state collusion, PSNI Chief Hugh Orde announced the establishment of yet another team tasked with 'investigating' allegations of collusion this week.
Last week Sinn Féin called for a full independent inquiry after an international panel of legal experts highlighted 'shocking' evidence of British state collusion in 74 out of 76 killings they investigated.
The report focused on the Glenanne gang that terrorised people in Armagh, Tyrone and other border areas in the 1970s. The international investigation found evidence of systematic state collusion in some of the most notorious attacks of that time, including mass sectarian killings such as the Miami Showband killings and the Dublin/Monaghan bombings.
Faced with international exposure, the British dilemma was further compounded after the issue was raised in the Dáil and picked up by the Southern media. Sinn Féin's Caoimhghlin Ó Caoláin called on Taoiseach Bertie Ahern to put pressure on the British Government to co-operate with an international inquiry headed by the UN.
Writing in the current affairs magazine Village Justine McCarthy criticised the "tyranny of silence" in the south, surrounding the "forgotten killings".
"As individual citizens are we not entitled to be furious? Indeed are we not obliged to shout from the rooftops on behalf of the dead?"
McCarthy highlights the inconsistency of "people who have loudly objected to Britain's part in the illegal invasion of Iraq" but who continue to "ignore its criminal cover-up of assisted murders in Ireland, north and south".
It is hardly surprising that PSNI Chief and former member of the Stevens' team, Hugh Orde chose this week to announce yet another British initiative into allegations of collusion.
The new unit is to be an arm of the already discredited Historical Inquiries Team and was deemed 'independent' on the spurious basis that it would be based in London. As if this wasn't just another variation on the theme of the British state investigating itself.
The announcement was made during an unprecedented address by the PSNI Chief Constable and head of HET David Cox to the Dáil subcommittee examining British collusion in relation to a number of bombings in the south.
The newly formed "White Team" will examine allegations of collusion that do not "fit in" with other incidents and surprise, surprise, the first series of cases to be passed to the team will centre on the activities of the Glenanne gang.
And guess who's also going to be 'helping' the new unit with their 'investigation'?  The British army and British MOD who had kindly set up their "own historical team to assist the HET". And if that isn't 'helpful' enough, MI5 and MI6 have drawn up a "memorandum of understanding" between themselves and the new unit.
Already people are wondering if the White Team is some sort of abbreviation for Whitewash.