16 November 2006 Edition
Women's canvass in Lucan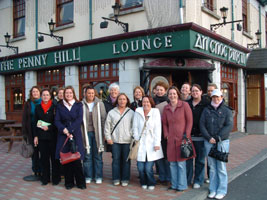 Sinn Féin Dublin Mid-West representative Joanne Spain was joined on the canvass trail in Lucan last Saturday 11 November by a 35-strong group of women activists from across the Six Counties, including Six-County MEP Bairbre de Brún and Fermanagh/South Tyrone MP Michelle Gildernew. A similar delegation travelled to Mary Lou McDonald's constituency in Dublin central.
Speaking to An Phoblacht, Joanne Spain said Sinn Féin's aim is to bring women to the fore of political life.
"We are determined to get republican women elected to the Dáil in the next election and this Saturday will be a show of the all-Ireland strength that we are bringing to the race in this constituency", she said, adding that many of the problems that she has encountered in Lucan, such as a lack of childcare and school places, and poor healthcare provision, affect women particularly.