16 November 2006 Edition
Huge republican turnout at Edentubber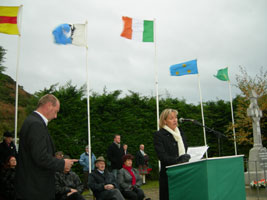 Last Sunday over 2,000 republicans from all-over Ireland attended the 49th anniversary of the Edentubber explosion in 1957 when Paul Smith from Bessbrook, Oliver Craven from Newry, Michael Watters from Ravensdale, George Keegan and Paddy Parle from Wexford lost their lives.
On the 11 November 1957, the five republicans met their deaths on a hillside at the Louth/Armagh border. The five died after a bomb exploded prematurely in a two-roomed house at the foot of the Mourne mountains. As part of the IRA's 'border campaign' (1956-62) which had earlier that year claimed the lives of Sean Sabhat and Feargal O'Hanlon, the unit had planned to attack the communications network in the Six Counties. The intended target for the bomb was a bridge and telephone exchange.
This year's commemoration at Edentubber was chaired by Sinn Féin candidate for Wexford in the forthcoming 26 County general elction, Councillor John Dwyer. The main address was delivered by Sinn Féin Ard Chomhairle member Martina Anderson. She paid tribute to "the IRA Volunteers who died here 49 years ago and the hundreds of men and women Volunteers who have since given their lives for Irish freedom in what John Joe McGirl described at their gravesides as 'the tragedy of an Ireland that is unfree and divided'."
On behalf of the Sinn Féin leadership Anderson extended deepest condolences to the family, friends and comrades of young IRA Volunteer Gerald Fearon who lost his life in a car crash two weeks ago.
Anderson said that four weeks on from the St Andrews talks the spin and hype following those discussions had been replaced by a more sober analysis of what the two governments produced. "But the reality remains that Sinn Féin wants to see progress made. We want to see the political institutions back in place. We want to see Ian Paisley finally abandon the sectarian politics for which he has become synonymous and embrace a new way forward for politics on this island".
 "We have set a firm course and believe that an opportunity exists to move forward in the coming weeks and months. And Sinn Féin is ready and willing to play our part in all of that. That is why the Ard Chomhairle has come to the position it has. What we went to St. Andrews looking for, and what is required, is not another agreement, but an implementation plan for the one we already have - and the one already endorsed overwhelmingly by the people of Ireland. That is the only basis upon which republicans can approach the St. Andrews document".
She said that all had to critically examine whether or not, what is contained in those proposals completes or advances the job of implementing what had already been agreed.  "Whether or not Paisley and his party have been moved from their position of 'Never'. Whether advances have been secured on issues of equality, human rights or the Irish language".
Anderson  said that  St. Andrews was not about policing or about republican engagement with the PSNI. That was a decision which could only be taken by the republican community.
"It is not an issue which can be decided by diktat from London or Dublin. No one has experienced the effects of paramilitary policing like republican communities particularly in the Six Counties. And we are about ending that. We are about ensuring the political detectives are removed and those involved in abusing human rights and setting up members of this community for assassination, are driven from positions of influence - be they inside or outside current policing arrangements. That task is not yet complete. The British government still has issues to deliver on - be it plastic bullets or the role of MI5 or Special Branch - and those negotiations continue" she said, adding  that in the transition to a united Ireland, republicans must be about creating a policing service which is not the tool of a unionist regime but is a service for the people who live there.
Sinn Féin would never shy away from challenging corrupt, sectarian or political policing "whatever the decisions taken or the path chosen in the months ahead".
Anderson said this was a difficult and emotive issue for republicans. "But it is not an issue which will disappear. Even if in the short term the DUP refuse to share power, republicans will not run away from the issue of policing. Aside from the reality that every community needs proper, effective and accountable policing, the removal from the unionist arsenal of their own police force for the first time since partition and the transfer of power on this issue from securocrats in Westminster into the hands of Irish politicians would clearly be a significant landmark on the road to ending British jurisdiction and control in our country" she said.
Anderson said the republican struggle must advance at all times: "Standing still or merely consolidating ground is not an option for this generation of Irish republicans. This is the time for grasping the opportunities which were not available to previous generations of republicans. In short it is a time to complete the job of building a new Ireland - not a 32 County 'rip off republic', but a socialist republic. To force through the contradiction which the British cannot resolve, we must strengthen the community for change that demands democratic governance. That will not happen without republicans taking even more risks, without republicans stretching ourselves even further", said Anderson.
Closing proceedings, John Dwyer thanked all who had helped to organise the commemoration, including local Sinn Féin Cumainn,  bands, PA system provider and in particular the republican ex-prisoners group and youth groups who provided colour parties. Dwyer told those assembled that preparations were now underway for the 50th anniversary of Edentubber next year.