16 November 2006 Edition
Remembering quilt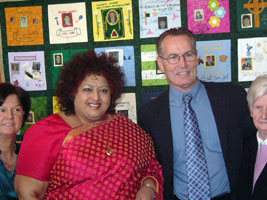 BY 
LAURA FRIEL
Launching a new panel of the Remembering Quilt, spokesperson for Relatives for Justice, Andree Murphy said the quilt lives beyond the past or even the present and reaches into the future.
"We cannot reform our criminal justice system, our policing frameworks, set up and office of the Police Ombudsman and a human rights commission without saying why. This quilt tells us why in no uncertain terms. Because human rights were abused and life was taken, often with impunity," said Murphy.
Several hundred families attended the launch last week of the quilt's eighth panel at Belfast Castle, a picturesque setting overlooking the Lough and close to Cave Hill.
"We chose Belfast Castle for this launch as it looks across North Belfast, an area from which came a large number of squares on the quilt. North Belfast suffered more than any other area in the North," said Murphy.
"Sectarian murder has been a feature of life here in an unparallel way since partition. Terror truly did walk the streets below us. The squares on this panel and all of the others bear testimony to those terrible times," said Murphy.
Each panel is built up of individual squares designed and made by the family of those who died. It is simultaneously an expression of personal grief and individual loss as well as a collective experience of injustice.
Many of those remembered died in disputed circumstances either directly at the hands of state forces or through state collusion with unionist death squads - a legacy of conflict the state refuses to acknowledge.
"Without truth there is a real danger that any reform could be built on sand," said Murphy.
Speaking at the launch was the South African Ambassador to Ireland, Priscilla Jana. A member of the ANC and a human rights lawyer, the Ambassador expressed her empathy with the families' quest for truth and justice.
Drawing on her own experience of emerging from the trauma of Apartheid to built a new South Africa, Jana placed truth and reconciliation at the centre of creating a society built upon equality and respect. Forgiveness is fundamental but not forgetting, said Jana. Remembering, acknowledging the pain of the past is crucial to building a better future.
North Belfast MLA and Sinn Féin spokesperson on justice and policing, Gerry Kelly said the loss of the families represented by the quilt was part of a collective loss and the bedrock of Sinn Féin's determination to achieve a new beginning to policing.
"We don't want anyone, ever again, to experience the type of political, paramilitary and partisan policing that we have experienced over generations and which you, in particular, have suffered in the past. Our community, the entire community deserves proper policing and we are determined to achieve that," said Kelly.
"Gerry Adams said once that when he goes to negotiate with the British government he always feels that he is accompanied by fallen comrades. We won't forget children killed by plastic bullets, the 1,100 people killed by state sponsored paramilitaries and those killed by the state," said Kelly.
"We know that no RUC or other state killers, colluders or their political masters have faced justice. We are mindful of the delays and refusals to co-operate with inquests by the PSNI, the destruction of files and forensics. Yet all of this, rather than frustrating us, drives us forward to achieve justice," said Kelly.
"I know there are persistent worries that in negotiations the issue of victims and truth will go further and further down the list or fall off the agenda. Let me assure you that Sinn Féin will not let that happen."
"Sinn Féin raises these issues constantly but remember also that campaign organisations such as An Fhirinne, Relatives for Justice or the Pat Finucane Centre give strength to negotiators. Keep up the pressure," said Kelly.
Acknowledging that no one has a monopoly on suffering or truth and that republicans have also caused suffering and loss, Kelly pointed out the inequality of justice which has seen an estimated 15,000 republicans have passed through prison, no state killers or colluders have.