16 November 2006 Edition
Sinn Féin, 'won't be deflected' by threats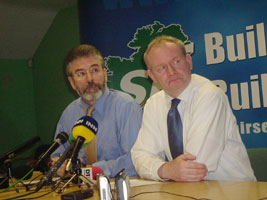 Sinn Féin leaders Gerry Adams and Martin McGuinness told a Belfast press conference, on Monday 13 November that the party would not be "deflected from what we think is the right thing to do", after threats against some members of the Sinn Féin leadership emerged.
Adding that he had been aware for some time of a possible threat Gerry Adams disclosed that, "a handful of disaffected IRA people", may have linked up with members of republican micro groups and some members of the INLA and that these were the elements behind the threats.
Both Gerry Adams and Martin McGuinness confirmed that the Sinn Féin leadership was taking the threats seriously. The Sinn Féin President said: "We work and live in a process which is about change. At different times in the process there is turbulence and this is open to exploitation by elements who have a very malign agenda." But he stressed: "We won't loose sleep over this".
"I would say to republicans out there who have concerns about the present political situation that they should not allow themselves to be manipulated or to have their concerns exploited by those who have very, very, narrow cul-de sac agendas", he said.
Adams went on however to describe those behind the threats as having, "very little weight or influence".
"If you weigh up the sum total of these groups against the thrust of Sinn Féin's support they are decidedly a very tiny minority", Adams said.
Both Gerry Adams and Martin McGuinness pointed out that it was important for the political process that progress was made in the coming weeks.
Speaking to An Phoblacht on Tuesday Gerry Adams said: "In every stage of struggle, there is always the possibility that, as there are efforts to make advances, elements will seek to prevent that.
"I have no problem whatsoever and in fact would actively encourage very inclusive debate on every dimension of strategy and tactics. But we are not naïve. There are people who are disaffected. They are a tiny minority. They include some former Army people.
"So we have to guard against any of us, including people who have genuine difficulties or concerns, being manipulated by individuals who have a much narrower or short-term agenda."