16 November 2006 Edition
Call to prevent British nuclear ship travelling through Irish waters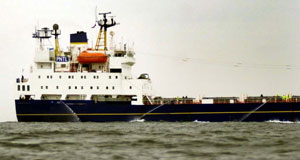 Arthur Morgan TD, Sinn Féin Spokesperson on the Environment called on Government last Tuesday to prevent the nuclear transportation ship the Atlantic Osprey from travelling through Irish waters because of the danger that it poses to people here.
"The Atlantic Osprey, is owned by the British Nuclear Group and is due to pass through Irish waters on it's journey from Sellafield to Cherbourg and then on to Switzerland. It will have 1.25 tonnes of potentially lethal MOX fuel and plutonium on board. The Government has told British authorities that one pellet of MOX, smaller than a coin, would contain 0.4 gramms of plutonium, which could kill 5,000 people", Morgan said.
The Louth TD went on to call on the government to make it abundantly clear to the British government that people across the Ireland were "overwhelmingly opposed to any form of nuclear power and this extends to the transportation of any nuclear by-products in Irish waters or in close proximity to the Irish coast".
Morgan said such transportations were dangerous but that the one in question showed complete disregard for the health and safety of people in Ireland.
"Bertie Ahern and his Minister for Foreign Affairs Dermot Ahern must prevent the Atlantic Osprey from sailing in Irish waters and, if they are not willing to do this, they must be made fully accountable  for putting the health and safety of the Irish people at risk.
"The risk is very real and apparent. Not only in terms of the potential threat of those who would be willing to use the ship for mal intent as the British own security services has previously stated but in terms of the safety risks that are connected to this ship. This is the same ship that went on fire while crossing the Manchester Canal in 2002 and British Nuclear Fuels Limited have admitted to this. The incompetence of BNFL poses a far more serious threat than that of the security threat.
"Sinn Féin has consistently demanded the closure of Sellafield, the cessation of plans to build any more nuclear power plants in Britain and the immediate discontinuance of the practice of transporting highly dangerous and toxic radioactive nuclear materials through the Irish Sea", Morgan said.