9 November 2006 Edition
Remembering the Past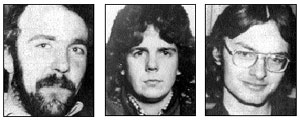 McKerr, Toman and Burns
BY 
SEÁN MacBRÁDAIGH
In 1982, six nationalists were summarily executed by crown forces in County Armagh in the space of a month. All of those killed were unarmed. Three of them were IRA Volunteers, two were members of the INLA and the sixth was a 17-year-old nationalist youth.
On Thursday evening, 11 November, IRA Volunteers Gervais McKerr, Eugene Toman and Sean Burns were ambushed and executed in Lurgan by the RUC. Both Eugene and Sean had recently insisted on returning to active service involvement in Lurgan, despite having gone 'on the run' and leaving the town for a short while after Sean was identified during an IRA operation.
That evening, having been away on business, both 21-year-old Volunteers had again slipped back into the town only three hours before they would be killed. All of the intervening period was to be spent in Gervais McKerr's house, waiting to be driven to a 'safe house' for the night.
The car they would eventually be driven in was McKerr's own - an unfortunate choice as it was well known to the local crown forces. McKerr's IRA involvement was also suspected.
Local members of the RUC and UDR had a long involvement in sectarian murders, including those of the Miami Showband, and of dual membership with the illegal paramilitary UVF.
The three Volunteers left McKerr's house shortly after 9.35pm. Minutes later, less than half a mile away at Tullygally Road east, they met their deaths in a hail of RUC automatic gunfire.
In the immediate aftermath of the ambush, the RUC cordoned off the area around the crashed car and for almost five hours denied all access to the bodies.
The RUC immediately engaged in a totally unconvincing cover-up, claiming that the Volunteers had accelerated through a checkpoint.
Thousands turned out in Lurgan to mourn the three Volunteers as they were buried with full IRA military honours on Sunday, 14 November.
Addressing the mourners, Sinn Féin's Jim McAllister accused the RUC of a policy of summary execution.
He went on to say: "Only in attaining their objectives will we build a fitting memorial to their memory. We must expose in the eyes of the world that the British terror tactics which murdered these men will not deflect republicans in their fight for freedom, an Ireland visualised by them as an Ireland with justice for all but privilege for none."
Such was the public outrage that three RUC men were eventually charged in connection with the murders. But the three were acquitted in 1984 by Lord Justice Gibson, who said that they were "absolutely blameless". He commended them "for their courage and determination in bringing the three deceased men to justice, to the final court of justice".
Gibson's remarks demonstrated for many people that Britain's 'shoot-to-kill' policy in the Six Counties was sanctioned at the highest level.
In April 1987, Gibson was killed in an IRA landmine as he crossed the border at Killeen.
IRA Volunteers Gervais McKerr, Eugene Toman and Sean Burns were killed on 11 November 1982 - 24 years ago this week.